It started as a rumour, but months down the line, it's the new reality and identity for these two major bank brands, Access Bank and Diamond Bank. The deal which was reportedly denied by some authorities in the banks officially went public in December 2018 when negotiations were already concluded.
Expectedly, there have been many reactions to this; while most see it as a welcome development which is significant in putting Nigeria on the map, a few remain sceptical about it. Amid the pressure from panicking customers, concerned shareholders, the interfering press and public opinions, the two banks have remained focus to what they believe would be the largest bank the African continent has ever seen.
Moving away from the noise and excitement, there is so much to glean from this seemingly great business accomplishment. Let's see what insights we can glean.
For any business that seeks to expand, there are certain qualities it should be known for as well as structures that must be in place. To put this in a more concise way, that business must have built its capacity which isn't built overnight, rather it is consistently developed over the years.
From its record, Access Bank, which is a top Multinational commercial bank in Nigeria, has had six successful mergers and acquisitions before now. The bank began its journey of acquisitions in 2005 with their first being Marina Bank and Capital Bank. Amongst other acquisitions after the first, one of the most memorable which placed them as one of the four largest commercial banks in Nigeria was in 2012 when it acquired Intercontinental Bank. Well there is no doubt the management team has been running with their vision which is "to be the world's most respected African bank".
On the other hand, Diamond Bank as a technology driven retail bank had set a high standard which gave other banks a run for their money. This has earned it an indisputable leadership position in digital and mobile banking. Diamond bank mostly leveraged on technology and continued to provide innovative solutions for financial challenges.
Another sign that this merger will be unbeatable is clearly seen in their statistics, with Access Bank having an asset of 4,555 and 1,555 for Diamond Bank. It is also going to be a massive force combining both bank's customers, Access Bank having over 10 million customers in Nigeria and different parts of Africa, and Diamond Bank 19 million customers. This explains why successful establishments tend to acquire enterprises that will add more value to them rather than reduce their worth. The likes of Facebook who keep acquiring other business platforms to enlarge its empire will help drive this point home.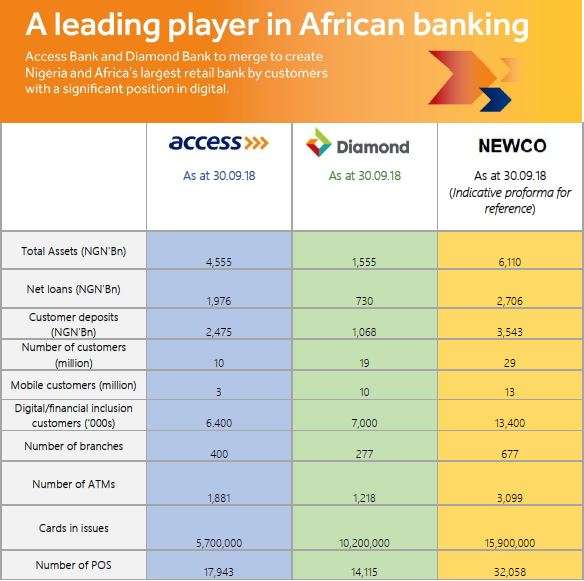 Paying a closer attention to this deal, one would understand that another reason why Access Bank and Diamond Bank took this bold step is to remain relevant first as a financial establishment, then to their customers who are faced with many options to choose from in the ever bubbling financial market. What better way can a brand attain relevance if not creating a larger platform that provides solutions to the many problems facing their many customers?
While Access Bank will leverage Diamond Bank's leadership in digital and mobile-led retail banking, Diamond Bank will gain more visibility with Access Bank's strong network across the continent. In the word of Herbert Wigwe, the CEO of Access Bank,
"Access has a strong track record of acquisition and integration and has a clear growth strategy. Access and Diamond have complementary operations and similar values, and a merger with Diamond, with its leadership in digital mobile-led retail banking, could accelerate our strategy as a significant corporate and retail bank in Nigeria and a Pan-African financial services champion."
Now bearing in mind the heights both banks have climbed in the past and what they hope to achieve, we can bet that they have done their market survey and have seen the many opportunities their merger will create in both the banking sector and the society at large. Again Herbert's words confirm this,
"We believe that this platform, together with the two banks' shared focus on innovation, financial inclusion and sustainability, can bring benefits to Access and Diamond customers, staff and shareholders."
Till the deal comes to a final conclusion, there remains a high hope that the combination of these two banks will give birth to an exceptional brand.
Written by Jennifer Chioma Amadi
Have you been thinking of starting a business but haven't gotten your strategy right? We are here to help you develop winning business strategies. Simply send us an email at wecare@mapemond.com
Do Business Better