Tuesday, 19 November 2019
The best relationships are not necessarily the ones without squabbles and disputes, but the ones where the partners can address the issues graciously and carry on beautifully with the relationship.
They understand that other issues will come along the way, but they maintain the same disposition in addressing the issues, not to tear down, but to understand themselves better and to keep building.
They experience fights, disappointments, hurts, pain, anger, tears, and much more, but they never shut the door against healing, forgiveness, tolerance, and peace, so long as the partners involved have a mutual understanding.
Business relationships are not immune from issues, some can be resolved and others will slip through. Some broken business relationships can be rebuilt if only we set ego aside and make that call.
We are training employees of an airline from today and our mission is to help them deal better with the frustrations they feel in trying to serve customers better.
Customers are humans.
Co-workers are humans.
Managers are humans.
You are human.
Customer relationships, handling complaints and all that can be better handled if we first zoom into human relationships.
We can build truly global brands from Africa.
#DoBusinessBetter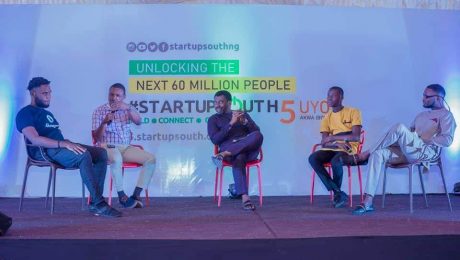 At the ongoing Startup South Conference in Uyo, my firm, we hosted a session to discuss brand visibility as a means to access the market with Startups and emerging businesses.
The panelists submitted as follows:
1. Before you strive for visibility, make sure your product is good enough for the market. It may not be perfect, but let it be good enough to worth your effort.
2. Don't be satisfied with friends and families patronizing you. Your business hasn't really been tested until you start selling to people who don't know you.
3. Leverage friends and families to gain referrals. Seek their feedback and urge them to mention to their friends, colleagues, neighbours, and so on. Offer an incentive if you can.
4. Say it. Nobody knows what you have to offer unless you tell them. So every opportunity you get should be used to say what you are doing. Of all your personal contacts and social media friends, how many know what you do? Talk and post more about what you do.
5. Create a brand for yourself, particularly an identity that makes it easy for people to spot you. It could be your name/moniker, hashtag, tagline, and so on.
6. Choose the right social media platforms. Go to where your targets are and publish the right content consistently.
7. Leave no stone unturned as you go along. WhatsApp status, Linkedin, physical meet-ups, target events, and so on.
8. Ask. If you need exposure on any platform, try to network your way to a contact person and be willing to exchange value.
As you seek visibility, keep working on developing soft skills like negotiation, meeting people (networking), emotional intelligence, and others.
Every viable business operation has a threshold before a breakthrough, what happens in three months for business A may take one year to happen for business B, just keep doing your possible best per time.
#DoBusinessBetter