Monday, 07 September 2020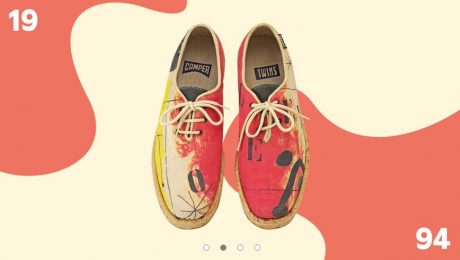 Recently, we had a brief meeting with a client who wants us to handle marketing communications for their group of businesses. The client said something that got us musing about what we will be sharing in a jiffy. The client said, "I don't want mere advertising. I want marketing communications". We are delighted whenever a client makes that vital distinction. So today's lesson is on marketing communications using the shoe brand called Camper.
Camper is a contemporary footwear brand from the island of Mallorca, Spain. Founded in 1975, it is a family business (of about four generations now) with a rich shoemaking heritage that it uses to create unique designs. As of 2011, over 6 million feet around the world wore Camper shoes for that season. On some of those feet, the left shoe and the right shoe didn't match, such are the originality and playfulness with which the Camper brand invites the world to share its enthusiasm for that most ordinary and honest of human endeavours: WALKING.
We found the statement below on their website for their shoe collection called TWINS:
"Opposite yet Complementary. In 1988, we challenged the idea that shoes must be identical by designing a pair where the right shoe was different than the left. Since then, TWINS has been revisited each season through new typologies, treatments, and materials that continue to play with the idea of mismatched design."
Camper cares about SLOWNESS – it promotes the notion of the 'WALKING SOCIETY'. It abhors the trend towards speed in modern life, as exemplified by brands like McDonald's and Nike. Instead, it invites us to slow down and take in the wonderful world around us, assuming we haven't lost our capacity for the appreciation of the simple joys on offer. For Camper, putting one foot in front of the other isn't just a means of locomotion; it is one of the defining characteristics of our bipedal species, a reminder of our connection with the history behind us and the earth beneath us.
"Contact earth" is one of Camper's much-repeated marketing themes. The brand name Camper means "Peasant" in Catalan. And for Camper, the brand name represents the Peasant Way of Life – austerity, simplicity, and discretion, which is reflected in the design rhetoric of the shoes, communicated on the website, the give-away booklets at their stores, and so on.
You may want to stop here and read from the beginning again, thinking about your own business this time.
What kind of brand do you want to build?
What is the story and heritage you are creating for the brand?
How long will you do mere hustle?
No matter the size of your business, you can start putting these perspectives into place.
In a fast-paced world, Camper is talking about slowness and has built a very successful global brand. That is what branding is about – to truly be unique in what you do. Making your business have its own life, purpose, and why it exists makes the difference in your marketing.
Don't just tell your target audience to buy, tell them what you are about, and they will fall in love with what you are selling. When was the last time Coke told you about beverage? It is mostly about happiness and friendships.
Remember our lesson on
"big idea"
. Camper is another reminder of why you need one. Define what makes you unique, articulate how it relates to humanity or something of essential concern, then communicate it as much as you can. It is a game-changer.
Did you pick a lesson?
If yes, leave a comment and share it with others.We can build amazing brands in Africa, one step at a time.
In your effort to market your business, one of the things you can do to gain better visibility and attract your desired target audience is to have what is called a big idea.
A big idea is commonly used for marketing campaigns. Every professional marketing campaign you see has a big idea that drives it whether it is expressly communicated or not. However, a big idea is also used to engineer and drive your entire business or organization.
We all love Nike's "JUST DO IT", that is a big idea in itself derived from "Nike pushes your athletic boundaries beyond what you thought was possible, so you can win on your own terms".
Unilever's Omo and Persil ran a marketing campaign themed "DIRT IS GOOD" and it was derived from the ideology named "Modern Parenting" which submits that children learn more about their environment and things as they explore their curiosity and mess their clothes up. Therefore, let the children play and as they get dirty, Omo helps you make the clothes clean again.
Because our businesses are often set up for survival, we dismiss these things, but the foreign brands make billions with it from our own pockets. Even in survival mode, you will survive better if you sell better.
Lately, a lot of people are talking about Burna boy in relation to his positioning in the music industry beyond Nigeria. Burna boy is entrenching a strong ideology into his brand that has to do with the African narrative. It gives him access to a far wider audience and makes him hard to ignore even if you don't enjoy his music or like his personality. Remember Wakanda? The ideology weaved into the narrative, though fictional, was magical.
Once you articulate a significant ideology into your brand – something that affects the story, existence, history, aspirations, desires, or challenges of a people (your target market), your brand immediately begins to stand out from the lot. There are so many bakers out there, not a problem, but WHY do YOU bake? What is it about your own cake business that makes it different from all others? It may not even be about cakes directly, but that thing that drives you internally each day. Capture it, articulate it, and communicate it.
Defining a simple ideology for your business will enable you to get better results with your small efforts.
Through your big idea, you craft strong messages that resonate with your target market and you grow a loyal tribe of customers.
Through your big idea, you attract team members who want more than just a monthly salary. They want to be a part of something remarkable.
Through your big idea, you become more purpose-driven.
Your vision and mission statements (if you have) will stop being fancy statements you display on your walls or wherever.
We can build amazing brands in Africa.
Let's keep doing it from our small corners of the continent.
We can do better against all odds.