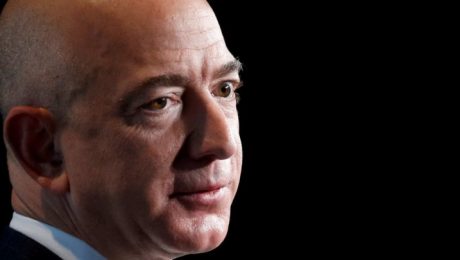 At the middle of the year, many questions relating to the priorities of a firm spring up. It is easy to set priorities at the start of the year but following through is somewhat a challenge for most organisations. In the process of swimming with the tides of change either caused by internal or external factors, so many drift away from their initial goals and objectives. One way to resolve this is by being accountable to shareholders or partners.
Drawing insight from Jeff Bezos' ritual of writing letters annually, since 1997 to date, to the shareholders of his company, Amazon.com, business owners can learn a great deal of accountability. The brand that is referred to as the world's largest online marketplace and cloud computing company has been able to consistently remain on track running with clear priorities.
It was observed that the letters the company writes to communicate its focus to shareholders help it stay accountable throughout the year. Whether it is a new strategy towards expanding the brand or a decision on employees, the letters act as signals informing shareholders about the direction of the company. An excerpt from the 2004 letter shows that Bezos also uses it as a medium to share some financial concerns. There he wrote "Our ultimate financial measure, and the one we most want to drive over the long-term, is free cash flow per share."
An analysis carried out on the letters indicated that there are key words the letters are structured with. From this, one can tell where the company's priority for that year is centred on. The 2006 letter revolved around five words, "businesses," "new," "Amazon," "grow," and "culture"— pointing the attention of shareholders towards expansion and growth. In that letter, Bezos writes,
"At Amazon's current scale, planting seeds that will grow into meaningful new businesses takes some discipline, a bit of patience, and a nurturing culture. Our established businesses are well-rooted young trees. They are growing, enjoy high returns on capital, and operate in very large market segments. These characteristics set a high bar for any new business we would start. Before we invest our shareholders' money in a new business, we must convince ourselves that the new opportunity can generate the returns on capital our investors expected when they invested in Amazon. And we must convince ourselves that the new business can grow to a scale where it can be significant in the context of our overall company."
Moving on to 2010, the priorities of the company changed to "data," "Amazon," "services," "systems," and "technology". Bezos pinpointed
"All the effort we put into technology might not matter that much if we kept technology off to the side in some sort of R&D department, but we don't take that approach. Technology infuses all of our teams, all of our processes, our decision-making, and our approach to innovation in each of our businesses. It is deeply integrated into everything we do."
Even though Bezos never includes the failures of the firm, he makes his shareholders know of such possibility but assures them of a way out. This is clearly seen in his 2013 letter:
"Failure comes part and parcel with invention. It is not optional. We understand that and believe in failing early and iterating until we get it right."
Bezos also utilises the opportunity to remind the shareholders about the company's plan from the beginning. This can be seen in the most recent 2018 shareholders letter released 11th April 2019. It reads:
"From very early on in Amazon's life, we knew we wanted to create a culture of builders – people who are curious, explorers. They like to invent. Even when they are experts, they are "fresh" with a beginner's mind. They see the way we do things as just the way we do things now. A builder's mentality helps us approach big, hard-to-solve opportunities with a humble conviction that success can come through iteration: invent, launch, reinvent, relaunch, start over, rinse, repeat, again and again. They know the path to success is anything but straight."
With this approach, accountability becomes less of a problem for the firm, and serves as a means to attain sustainability.
What is your own approach for accountability?
Written by Jennifer Chioma Amadi
Do you need help with developing a business strategy? We can help. Send an email to wecare@mapemond.com
Do Business Better!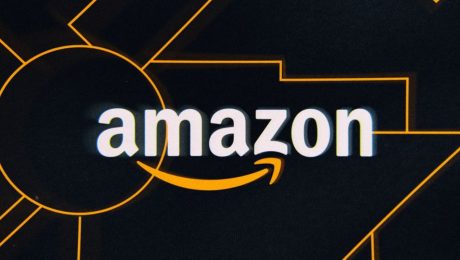 Whenever and wherever e-commerce is the subject of discussion, Amazon is one name that would always be mentioned. Without a doubt, it has become an unbeatable name in America and all over the world.
What started out as an online bookstore has grown to encompass the sale of many other items. Its expansion strategy has set it to become one of the world's leading e-commerce site. Amazon has become a trusted platform for both buyers and sellers who do not hesitate to express their satisfaction with the services rendered.
This air of satisfaction among their clients is one thing Amazon never waste an opportunity to boast about. The attribute of ingenuity in customer's satisfaction is proudly expressed on the brand's logo. The simple, yet sophisticated look of the Amazon's logo now carries with it the story of growth and success of the brand.
LOGO HISTORY
When Jeff Bezos, the founder, established his online bookstore first under the name, "Cadabar" in 1994 and a year later changed to Amazon, the logo did not seem as exciting as it is presently. The initial attempts to brand the company and give it a face was not as remarkable or polished as what we have become accustomed to.
The first logo prototype featured the letter "A" boldly designed as a winding river cutting through its silhouette and superimposed on an aquatic background. Though this logo did not sell the brand completely, still it set the sail for the company.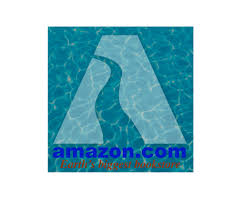 Subsequently, other variations of the first logo were designed. The other logos were experimented with different colour schemes, icon fills and choices of typography. In 1997, the wordmark had extracted the capital "A" icon. This version of the logo had both upper and lowercase.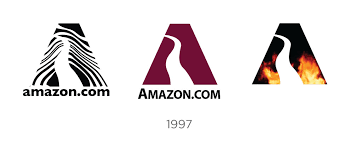 Amazon took a new direction in 1998 because of its exponential growth. As part of the revolution, the company had to redefine its identity to differentiate it from other online shopping platforms and make it stand out in its industry. Amazon was one of the first e-commerce sites to incorporate one-click shopping and email order verification. The company's services provided convenience for shoppers with a comprehensive stock of books.
This successful phase extended the company's model to include an audio library. With over 125,000 titles searchable by artist, song title and label, the music section would debut on Amazon. Following the expansion, there were a series of iterations on the logo to suit the rapid growth of the company.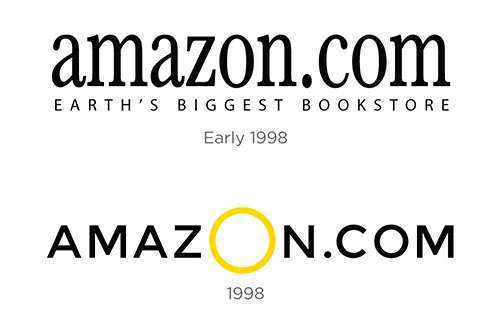 The iterations would include a lowercase serif logo paired with a book and globe icon. With the future in view, the company's ambitions were reflected in its new tagline "Books, Music & More" This logo would remain in place until the company had time to expand on the "More" part of the vision. Due to the diversity of the company, more changes were made; this included a sans serif, all-caps wordmark with a large, golden "O" in the middle. This version lasted for only a few months before being redesigned into the sans-serif, lowercase font.

In 2000, Amazon was gaining more visibility but rather than be complacent, Jeff Bezos constantly sought for ways to improve the company while exploring innovative ideas. The company gradually transited from consumable media into almost every product in the planet. To mark this new feat, Bezos desired a new logo – a timeless one that would bear the company's message. To achieve this, he implored the help of Turner Duckworth, a creative agency that gave the company's identity a tremendous facelift.

LOGO MEANING
The current emblem came with new success; with the swooping yellow arrow that points from the "a" to the "z" of the logo, which explained the founder's original plan for Amazon. The shape of the arrow has a round-edged, organic quality, and the right side bends the bottom stem of the "z" upwards. This symbolises a smile to represent the stellar customer experience the company is known for.
Apart from the smile interpretation of the logo, the arrow from "a" to "z" also means that Amazon sell everything from a to z. That is, almost every product can be found on the Amazon store.
LOGO FONT
The Amazon element is designed with a custom font, which resembles Officina Sans. This font gives the wordmark "amazon" a bold face. The well-crafted wordmark has become a recognisable identifier related to the brand.
LOGO IMPACT
Amazon's logo with no word said, spreads the message behind the brand. At just a glance, it sends signals to each viewer.
The logo also serves as a reminder to both clients and staff. For clients they are assured of having a stress free customer experience whenever they make purchase on the Amazon site, which eventually leaves a smile of satisfaction on their faces. On the other hand, the staff are reminded that they have to ensure that every service or product meets the customer's taste and satisfy them.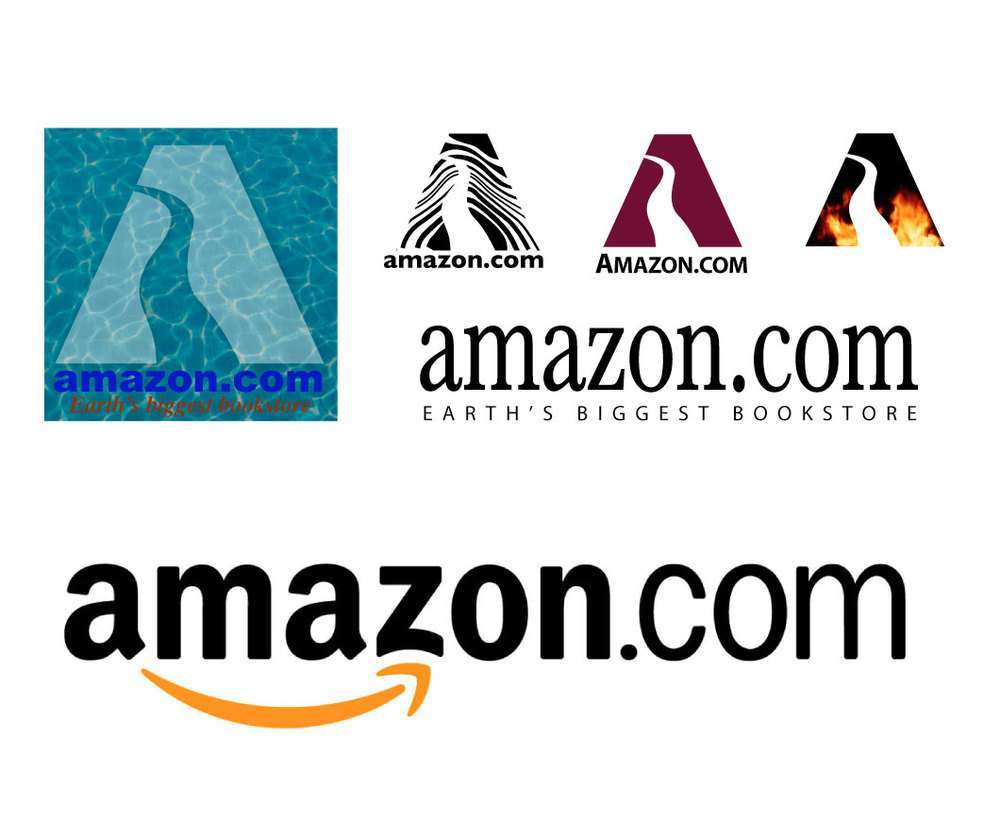 Amazon remains a leader in its industry, a timeless brand, and continues to evolve. From online retail, with everything from ebook readers, to delivery via drones and terrific automated hub that manages its ever-growing inventory of products. The company has never conformed to the norm and has always tied its progress and innovation to its logo and collective ethos that was inspired by the founder.
Quoting Bezos;
"We are culturally pioneers. We like to disrupt even our own business. Other companies have different cultures and sometimes do not like to do that. Our job is to bring those industries along."
Written by Jennifer Chioma Amadi
Do you need a logo? we can help you design one for your brand. Reach out to us at wecare@mapemond.com
Do Business Better!