Wednesday, 16 January 2019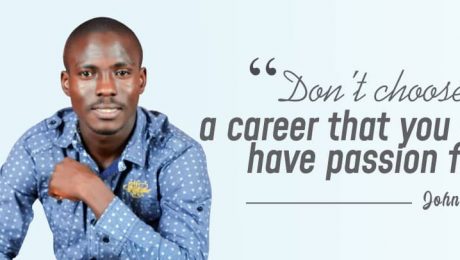 One of the rarest things is seeing a young person with five years experience in a challenging field like mechanical engineering. With the effect of the rising unemployment in the country, most graduates are left handicap hoping for when the grass gets greener. But that doesn't seem to be the case for John Jimoh.
Whether it's a stroke of luck or a result of competence, John Jimoh didn't have to stand in the queue of unemployed populace. He actually began to take bold steps towards his career path before he answered the National Youths Service Corps (NYSC) call and continued his journey immediately after that. "I have been working for 5 years. I started before I went for NYSC and continued afterwards."
To add to his full cap of good chances, John didn't have to settle for any other filed asides his field of study.  "I studied mechanical engineering and I currently work as a mechanical technician in a manufacturing company."
For him working has awakened a sense of independence and has equipped him financially.
"Working has impacted my life in many ways. I must say, since I started working, I feel more responsible and independent. I'm not dependent on anyone especially for financial support. I can only mention but a few."
CAREER GROWTH
Measuring his growth since he started working, John had this to say, "In terms of growth, I have really developed into a better person. In school, we were only taught theories but in the field, you handle real life situations. I have been given the opportunity to identify and solve problems. Doing this often has increased my level of commitment and confidence."
Expressing his scepticism about promotion owing to the fact he is still finding his foot in his field, John said, "Well, promotion has to do with time and many other factors are involved. I can't possibly say much about this."
In the area of benefits, John believes there are several aspects of the daily work that can be categorised as benefits which may not necessarily be what most people consider to be one.
"I think the main reason we work is to earn. If you're not earning, you're not working. So the work and position occupied is what determine the benefits. Besides the financial benefit, the experience gathered is a benefit on its own. It's a tool to get opportunities in the future."
As regards, having a side hustle, here are his thoughts, "It is not advisable to put all your eggs in one basket. Having other source of income is good in order to meet every one of our needs." From this reply you can tell that, like most employees, John is open to increasing his opportunities to earn more.
Since he has embraced his work with all diligence, John boldly indicated, "I would say every day was an adventure for me. So I can't specify only one remarkable experience. I see work as a part of my life. It is fun. I learn every day. I always see myself as a learner and not pro. With this attitude, I have really evolved and what I used to see as problem, I now see as opportunity."
He went further to expatiate the reason behind his appreciation for his work by identifying some qualities it has added to him so far, "for example, before solving a problem, you have to think. Thinking itself is a lot of work. You don't jump into a problem without troubleshooting because if you get it wrong, you have to start all over again. Where I work, we work with time. If you spend too much time solving a problem, you're probably going to be queried for it."
One of the joys of the work life is earning and John is not left out of that excitement, "my financial life has changed greatly ever since I started working. I handle my finances with care because I know how it feels to work and earn. My needs are met and I feel independently responsible."
Like they say, life is not a bed of roses. No matter how good a thing is, there are challenges to it. John pinpointed this about his field, "it is exhausting. I once posted on my Facebook and WhatsApp status these words, 'Engineering is not for babies, it is for those who can chew meat; if you are not physically and mentally strong, you will fizzle out quickly or get sick regularly."
Lastly, John gave a piece of advice to the youngster hoping to build their career, "my advice for young people is for them to identify their passion or their talent. Either of this two will pave a way for a career. Don't choose a career that you don't have passion for. So passion is the key to locate the right career. After identifying a career, then focus is needed in order not to deviate. You have to stay put except you are considering a career transition."
With the above perspective from John Jimoh, we can't help but emphasise the need for business owners to ensure that the recruit they best match for their brand.
Send us an email at wecare@mapemond.com.
Do Business Better
Written by Jennifer Chioma Amadi
Wednesday, 12 December 2018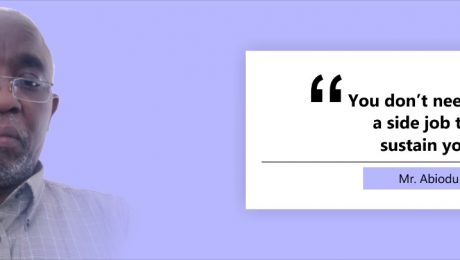 While most employees these days struggle to pursue a career and retain a job for a few years, Engr. Boladale Abiodun Adegbenro has followed his career through for over thirty five years.
"I actually started working before I left the university; I was doing a part-time job then. Ever since, which is over thirty five years now, I've always been working," he said at the beginning of the interview in his office at Aero Contractors' branch in Port Harcourt.
Engr. Boladale admitted that during the course of working with both machines and human beings, he has learnt patience and to build relationships with several people from all walks of life. "I have worked with all kinds of individuals, some easy going and some as tough as a nut, but in all those experiences, I have become better at building relationships."
He went further to share his first experience as a project leader, "another thing I have learnt while working is how to handle challenges. During my early years in practice, I was put in charge as a trainer to manage the assembling of an aircraft, Air Beetle, which was new in Nigeria as at that time. I had never done anything like that before and by far the most challenging project I had ever faced."
The Growth Process…
When asked about his career trajectory, Engr Boladale admitted that he had to flow with the tides of change that came with his career and simply embraced the opportunities that came across his path.
"There is no straight way in life and that goes the same for career path. You can change your career and explore other options along the line if the need arises," he said. "I was trained to be an Aerospace Engineer but later on, I switched to aircraft and helicopter maintenance engineering then went on to become an administrator of operations."
"I have also had to change my location several times. I first relocated from the United States back to Nigeria, then from Kaduna to Lagos, and down to Port Harcourt. So you see, it hasn't been a one way traffic," he added.
His View on Side Hustle…
Unlike most people who believe one cannot live on a single salary income and that a side job is needed to sustain one's self and their family, Engr. Abiodun begged to differ, "when you are passionate about what you do, it pays you and meets all your needs. You have to be satisfied with your job."
He noted that the reason why most workers have financial issues is as a result of their way of life. "Your way of life will determine how you spend your money. Be contented with what you have, plan within what you earn, and go for things within your reach. For me, working has made positive impact on my financial life."
And on Job Security….
From his confidence level, one would think Engr. Abiodun is one whose life is banked on job security believing that the job is always available. However, he debugged this ideology. "No job is secure," he said. "From the first day you are employed, you should be prepared to pack up and leave as well. Which is why I say, 'always have a plan for your life in case anything happens'.
Lastly….
To end his interview Engr. Abiodun shared some words of wisdom to young people looking a career path. "I think many young people are too ambitious and want to make fast money," he pointed out. "They need to be ready to learn and listen attentively because there is no rush in life."
Like they usually say, it's different strokes for different folks. What's your perspective? Please leave a comment.
Written by Jennifer Chioma Amadi
Need any help with your team? Without the right people, there is no brand. Send us an email via wecare@mapemond.com