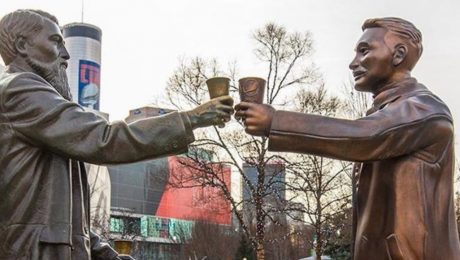 For decades, Pepsi has been Coca Cola's arch-rival in the beverage industry. Having been in the market since 1886, long before Pepsi's birth in 1893, Coca Cola can be said to be on the leading edge. With this lead, Pepsi and other related brands continue to be on their toes to meet up and outshine the iconic brand.
Over the years the competition between Coke and Pepsi has been fierce and consistent with each brand coming up with different strategies to remain at the top and gain more consumers. This could be observed in their constant innovative moves, from ads to their products and also their sponsorship programs.
In a bid to get more attention, Pepsi took advantage of the Atlanta Super Bowl game, which it was sponsoring for the first time, to make some strategic chess moves. For the first time, Pepsi took over Atlanta which is popularly referred to as Coke's town, since the brand was born there and its headquarters is also located there. The city was painted blue as opposed to when its opponent Coke used to paint it red during their period of sponsorship.
Asides the billboards Pepsi mounted in strategic areas with taglines like, "Look Who's in Town for Super Bowl LIII", announcing their arrival, the brand brought the statue of its founder Caleb Bradham to Atlanta's World of Coca Cola right next to the statue of Coke's founder John S. Pemberton. The statue was positioned in such a way it looked as though the two founders were clinking their glasses in celebration.
This move may have been a demonstration of Pepsi's idea of the cola truce initiative or part of their plan to get more attention thereby creating more visibility for its brand.
This however didn't seem to have moved the Coca Cola team as there was no response from their side. Reacting to this, Pepsi took what they perceived was a cold reception from Coca Cola to Twitter.
Flipping the awkward situation around, Pepsi informed the public about their Charity plan which was to donate food to the needy from every tweet with the hashtags #ColaTruce and #Share2Donate. This new strategy seem to have worked and must have endeared them in the hearts of more people as they were able to donate meals to 130k people through United Ways of Greater Atlanta, a platform for community development.
Now drawing away from all the drama, one insight we can glean from Pepsi's relentless spirit is, if one business strategy fails, try another approach even if it means putting up a show. In the end, you just never can tell which of the strategies would yield the desired result and eventually put your brand in the mouths and eyes of people.
Written by Jennifer Chioma Amadi
Need help with creating winning business strategies? We are here to help. Shoot us an email at wecare@mapemond.com
DO BUSINESS BETTER!