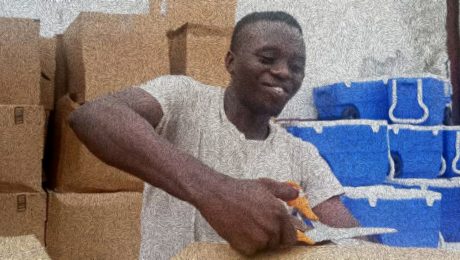 We've encountered these stories severally in the course of our work as a consulting agency and it was only recently we decided to start sharing the stories with the rest of the world. So here is our first attempt at sharing an impact story. We invite you to Meet David and his friends!

These are young guys in their early 20's, they haven't had the privilege of attending any tertiary institution as they desire. We recently had to customize hundreds of coolers for our client and it was an opportunity to impact lives while making profit. We engaged David and his friends to lead the art work at the client's warehouse and it was heartwarming watching them demonstrate great skill. Their zeal and commitment to work instead of staying idle and seeking pity touched a spot in our heart.

We believe that if business organizations become more intentional in impacting lives while making profits, our immediate communities will be a lot better. We all have what it takes to make impact, no matter how little. At MAPEMOND, we continually look for ways to engage kids like David (who are willing to work) off the street, so by extension, our clients through the jobs they give us to handle are impacting the lives of these kids and their families. So when putting together a team for your next project, make the conscious effort to impact lives as well.

We hope you found this insightful in some way. You can leave a comment to share your thoughts.
Looking for professionals to work on your brand?
We are your guys! Send us an email via wecare@mapemond.com
Meanwhile, you get a FREE brand audit for contacting us!
#BuildYourBrand #TheRightWay