Tuesday, 04 December 2018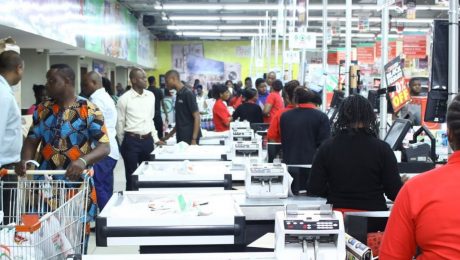 November comes with so many pointers; like the slight signs of harmattan reminding you that the year is almost gone, the early signs of Christmas whispering to you about upcoming festivities and most crucial is the Black Friday rush informing you about all the things you need to shop for. At the sound of it, the crowd literally goes wild! When lots of people flood into malls and over surf the internet just to get products at reduced prices, then you can bet the Black Friday promos have begun.
For most consumers, it is the season of 'no dulling' as they try to take advantage of this period, grabbing as much products as they can while the prices are still slashed. Some customers practically anticipate for periods like these when they could get more with little cost.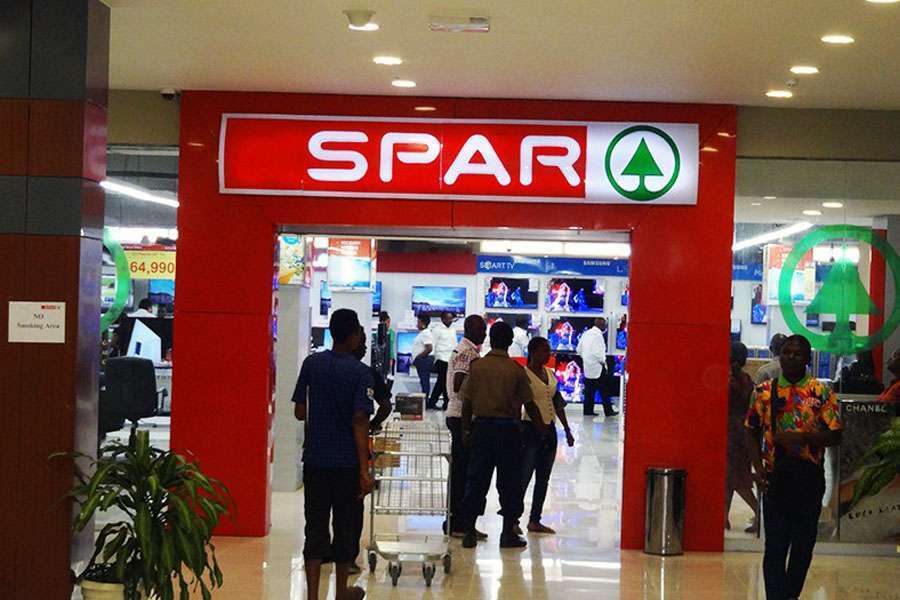 However, there is a twist to the proposed promos as some customers display their dissatisfaction on their social media platforms. In particular, some referred to the promos in the largest mall in Port Harcourt, SPAR, as scam. Most customers had gone hoping to get some products for a lesser amount only to be told otherwise at the counter and as expected, their disappointment knew no bound. During a visit to the mall, we approached a couple of customers and one of them claimed she observed that the prices of some products were raised a few months before Black Friday began and then slashed down to the original price when the promos started.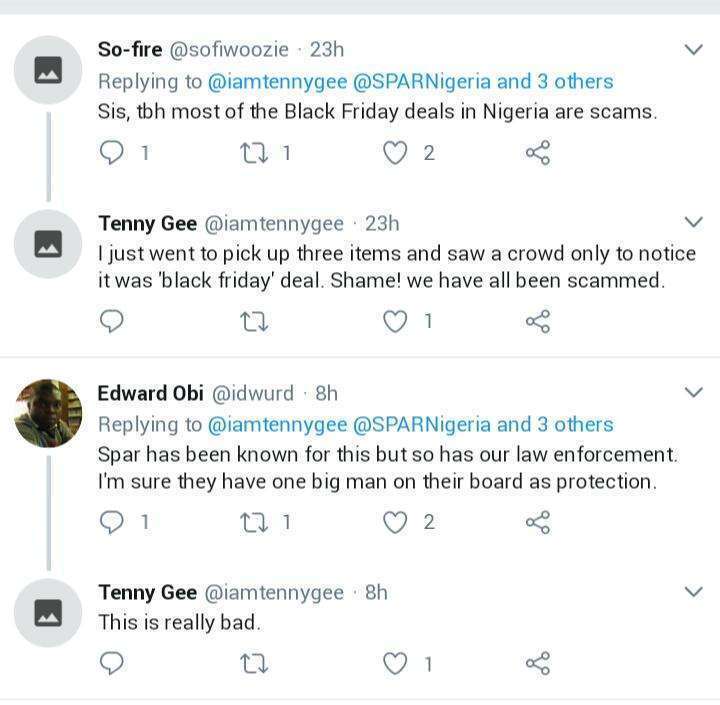 Due to the thread of bad report about the SPAR Black Friday deals from some customers, the Mapemond team thought it wise to hear the side of the management at SPAR shopping mall. Speaking to one of the in-house staff, who said they always kept their words and would never put out a promo they wouldn't adhere to. Though he mentioned that sometimes they could make the physical changes on different aisles, and then the systems retain the previous prices of the products. He said all a customer needed to do was to lay complaints regarding the situation and be rest assured that there would be refunds.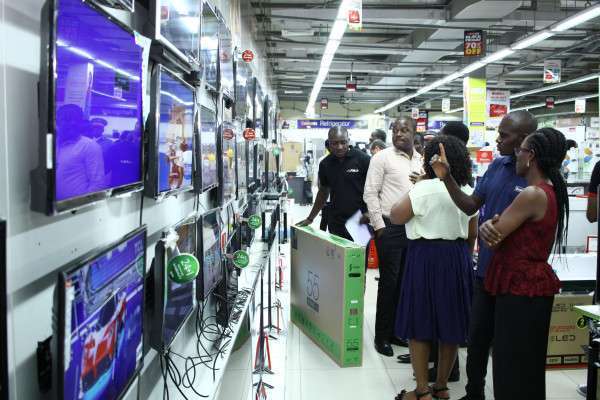 Following the outcome of events, a few consumers have concluded that the mall is not trustworthy since they breached their promises. Nevertheless, the mall remains filled with flocks of customers who continue to enjoy the rush of excitement that accompanies Black Fridays.
Well, having heard from both sides, we can't help but draw some insights about how bad publicity can spoil many years of good reputation of any brand. However, we believe that if a brand is built firmly on a solid foundation of some core values, such as integrity and transparency, then regardless of any bad report, the firm will definitely pull through and stand tall. When core values are strongly held by the organisation, customer's trust grows and is sustained. This is because most customers feel safer with your brand if you have remained consistent in words, actions, products and services you rendered over the years.
Build your brand the right way. We are here if you need help, send us an email via wecare@mapemond.com
Tuesday, 27 November 2018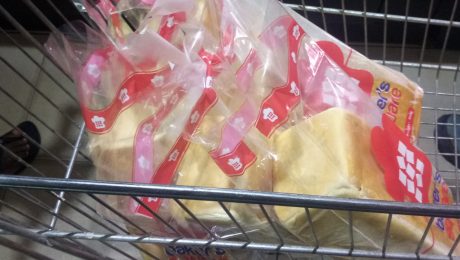 From the well sliced Nibbles' bread to the full Market Square loaf and down to the new Dome's dough, consumers have a lot to keep their taste buds going. The flooded bread market continuously serves its consumers with different varieties to choose from. Whether it is sliced or whole, one thing most consumers can't resist is bread oozing with freshness.
Since its emergence in our society, bread is one staple food that has gotten itself rooted in our homes, offices and eateries; the classic breakfast meal. Different consumers like their bread served in different ways; some with a cup of tea or coffee, some smoothened with butter, some eaten with a chilled drink, or dipped into wine for a holy communion, and the list goes on. Even though it is preferred and served in different ways, bread remains one of the most popular foods around the world. Due to its multiple serving options, the demand for bread keeps increasing daily. Most people, literally, can't do without it.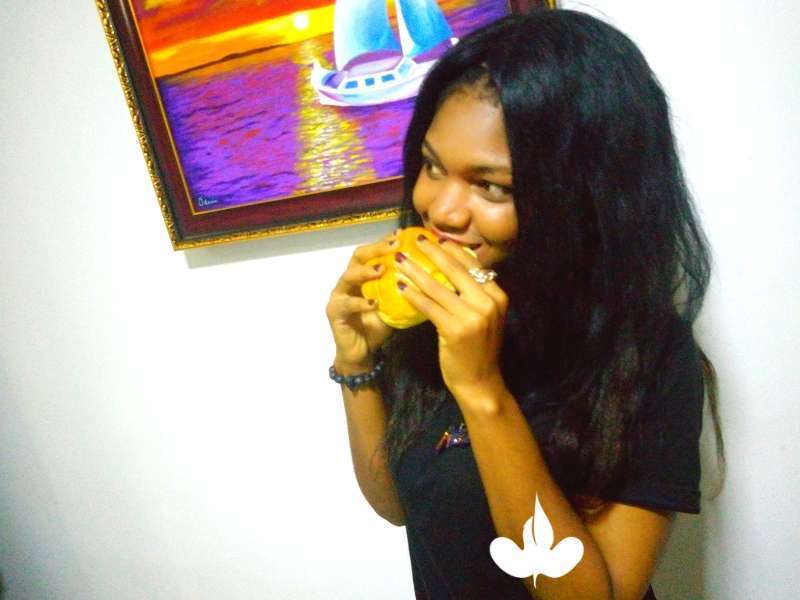 While consumers continue to test the waters in search of the ultimate bread brand, bakeries are on a quest to make their brands stand out. In the city of Port Harcourt, the craving for bread never ceases and new bakeries keep springing up each passing day. Unlike the days where brands like Wilson Teamate and Gibsco bread had little or no competition asides the smaller and informal players, these days a new brand must have to push its way through the competitive market. Old guards like Big Treat and Genesis who have remained in the market for years keep dishing out the best off their ovens and rebranding their products to fit current demands.
Without much advertisement, brands like Nibbles keep gaining more consumers through word of mouth endorsements. For some brands, spreading their bread through vendors and supermarkets has been their market strategy; they could literally be found at every nook and cranny. While major malls like SPAR, Market Square, and the latest NEXT Supermarket in Trans Amadi, who never take their products out, keep pulling people to queue up in front of their oven waiting for the hot freshly baked bread. However, there is high tendency that new bread brands, like The Dome, would attract more consumers with their uniqueness and packaging concept. They started out with paper bags instead of the traditional nylon, but we noticed they no longer use the paper bags due to customers preference for the nylon packaging, according to them. Meanwhile, their bread is slightly more expensive than Market Square but customers seem unperturbed with the price difference as they troop in there to pick up loaves.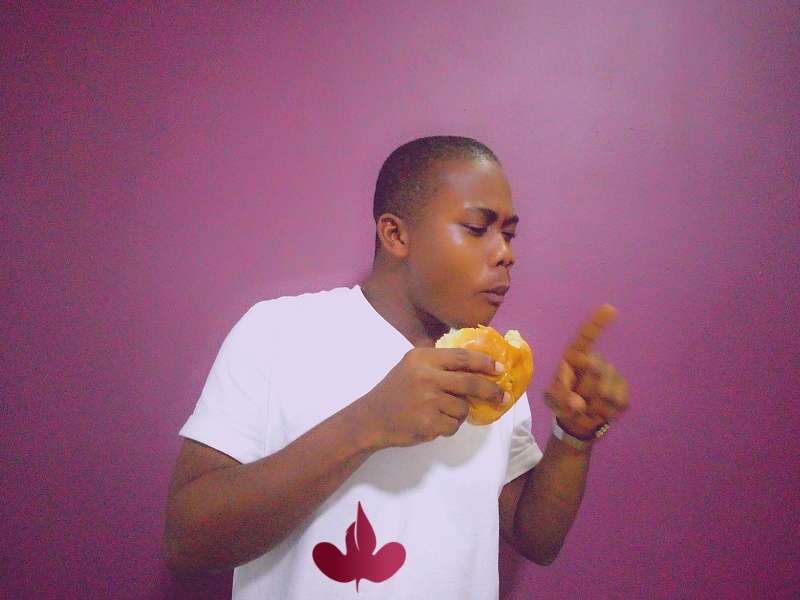 Though silent to consumers, the war between bread brands has steamed up as the demand keeps increasing. The signs are written all over the place and every corner we turn. At the Ada-George axis of the City, Market Square opened a branch which will definitely contend with Happy Food Bakery. At Peter Odili Road, Trans Amadi and environs, the war is going on between Market Square, Next Supermarket Bakery and the newest entrant, Dome Bakery and Creamery which is next door to Market Square. Meanwhile, the venerable Eastern Garden Bakery is very much in the market as well.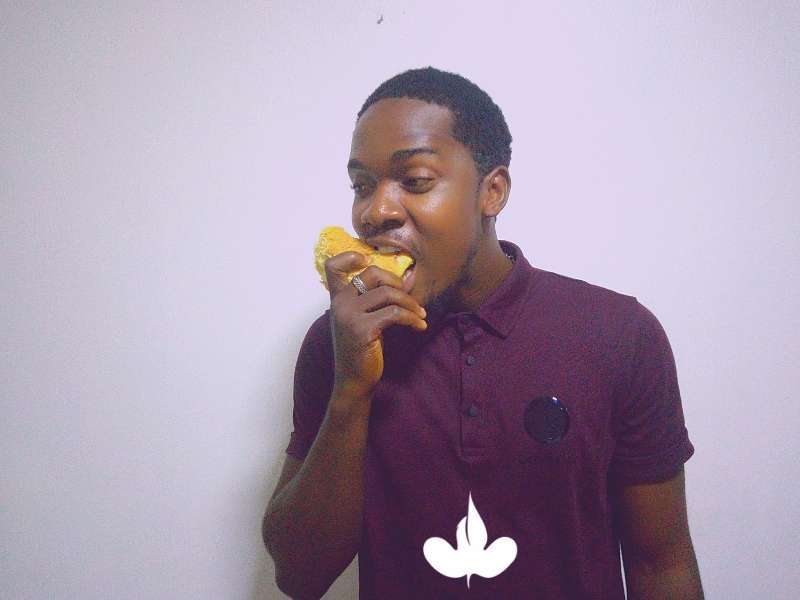 Whether they distribute their bread to shops in town or they bring the customers to their own outlet, each brand continues to search for ways to outshine the other with special ingredients. Some brands keep opening new stores at every corner. Still, some brands like Willson Teamate have faded into thin air and left memories of what a good old bread it was. Nevertheless, some brands keep fighting and conquering the battles in the bread world.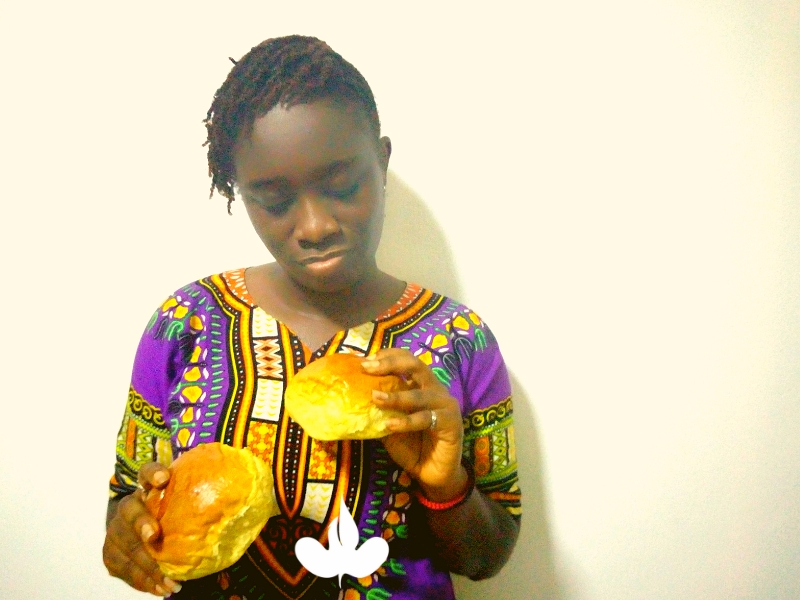 Whilst the bread war keeps getting louder among brands, there is still so much indecision among consumers. Some consumers remain faithful with the ones that suit their taste buds; others keep waiting to taste the newest bread in town, in search of the "supreme taste". We are left curious about which bread brand the majority prefer and which of the brands could actually be crowned the King of Bread if at all that is possible.
Hey! We were playing in the office and made a little video on this bread matter, just for you….
So, what's your take on this bread matter? Please drop a comment!
Written by Jennifer Chioma Amadi
If you need help with gaining visibility for your brand, we are your guys! That's not all! You get a free brand audit just by contacting us. Sounds cool? Send us an email via wecare@mapemond.com
Saturday, 10 November 2018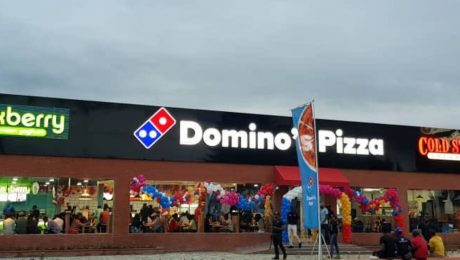 With over millions of consumers all over the world, the franchise chain; Domino's Pizza, Cold Stone Creamery and Pink Berry Yoghurt continue to pitch their tent in major cities across the globe to spread their reach. From a small Pizza store in America fifty seven years ago, Domino's Pizza has consistently broken new grounds and produced ripples of quality products and services all over the world.
Just few days ago, the brand made its entrance into the garden city of Port Harcourt in Nigeria; this has made waves in the famous oil city. Although the brand is already established and running in other Nigerian cities like Lagos and Abuja and has stolen the hearts of many customers, the people of Port Harcourt simply could not contain their excitement that this beautiful bride now also dwells in their City. As the official hash tag puts it, #WeDonLandPH Following the impact they've made so far in several parts of the world, Port Harcourt is certainly in for some taste of awesomeness. Already from the first day, as soon as the doors were flung open, the restaurant began to receive a high traffic of excited customers. Everyone was eager to have a taste of this new rave in town.
The excitement here is quite amazing! 😋😋😋 sweet tooth gang be chilling 💃🏼

The Address: Olu-Obasanjo Road opposite Access Bank. Make sure you go get your groove on tomorrow. #WeDonLandPH #DominosPizza #ColdstoneCreamery #PinkBerry pic.twitter.com/OAebl9Iqtb

— Elsie Godwin (@ELSiEiSY) November 7, 2018
However, this may stir a shake-up for some pizza, ice cream and yoghurt outlets that have been in the city. While the market is still large enough for the different players, it seems to be gradually heading towards a case of survival of the fittest knowing that the arrival of Domino's, Cold Stone and Pink Berry will most likely keep the older guys in the city on their toes. Check out the tweet reply from @aeleagu below:
Nice.. sweet tooth will have a rival😂😂😂

— Queen Esther (@aeleagu) November 7, 2018
What do all these signify to businesses? Consistent delivery of quality pays. Over the years, brands like Domino's have been known for quality products, satisfactory service delivery, and the right ambience for customers. If you desire to have the crowd on your side, never take a break from delivering service that will excite them.
The right brand experience always has a magical effect.

When customers are satisfied with the quality of service a brand offers, they could pay any amount or travel across borders just to patronise that brand. This has been the case for Domino's Pizza, Cold Stone Creamery and Pink Berry. They have been able to build a strong brand and Domino's Pizza in particular is considered as the number one pizza brand in the world. It is safe to say they are living up to their expectation as an organisation and also that of their customers.
Will the excitement in Port Harcourt be sustained? Will Domino's open more outlets in the City beyond the flagship outlet located at Olu Obasanjo Road in Port Harcourt? Well, time will tell. For now, it's all fun and yumminess all the way into the yuletide!
See more reactions and photos below.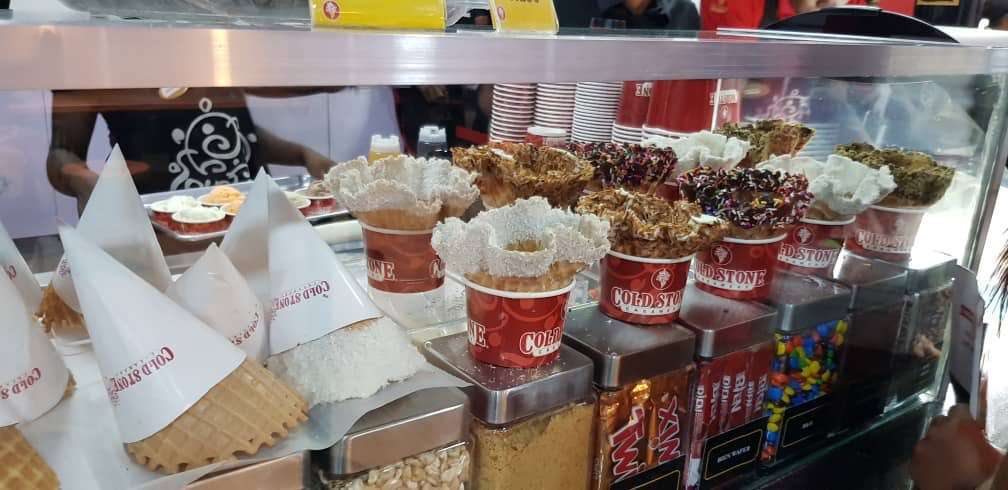 Cold Stone Creamery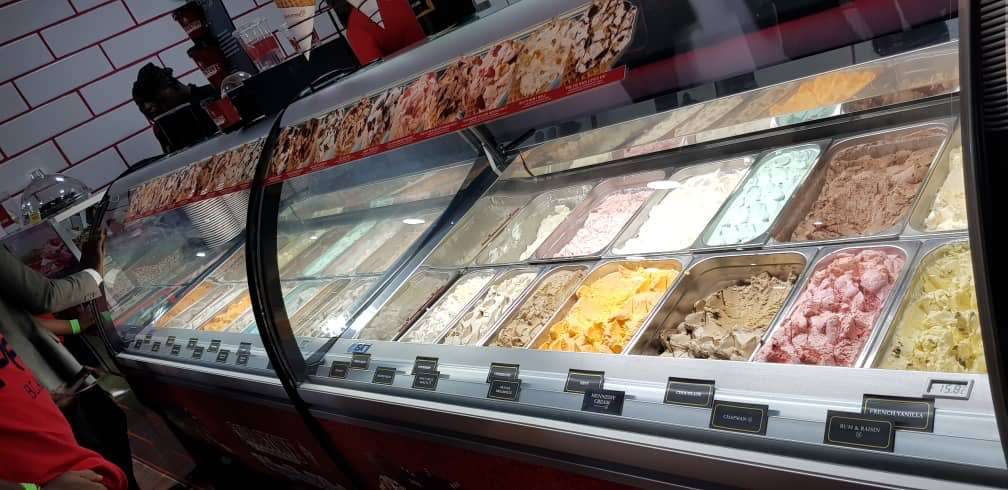 Cold Stone Creamery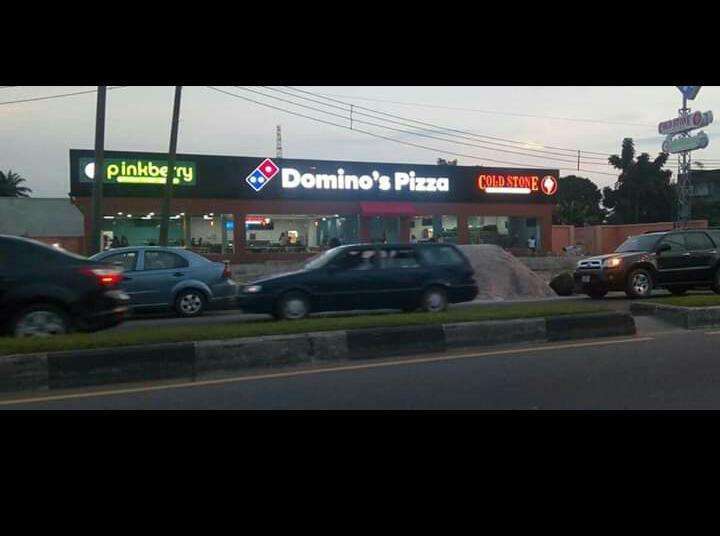 The new bride…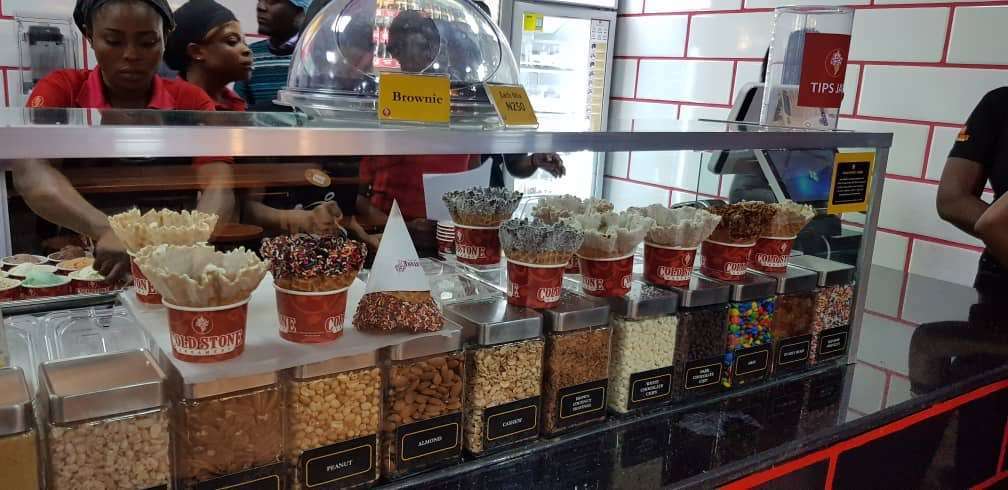 Array of options for tasty delight
Christmas came early!
If you don't get this type of warm welcome from #Pinkberry tomorrow, come and report them to me 😂😂😂🤪 #WeDonLandPH pic.twitter.com/F0diNEqyke

— Elsie Godwin (@ELSiEiSY) November 7, 2018
Port Harcourt Mall has always been overpopulated during festive seasons, but it looks like the options are increasing with the arrival of the newest rave. See @Miz_Impeccable's tweet below:
At least ph mall will breathe this festive season.

— Amara (@Miz_Impeccable) November 7, 2018
However, some persons feel slightly different about the diversion of crowd from Port Harcourt Mall and other places.
The place is not that big

— A + Visuals (@A_plus_visuals) November 7, 2018
There won't be sitting space funny enough!

— Obani sophia (@Perfectswitzy) November 7, 2018
Got thoughts or experiences to share? Please leave a comment below!
Written by Jennifer Amadi
Need branding solutions for your business? Let's talk via wecare@mapemond.com