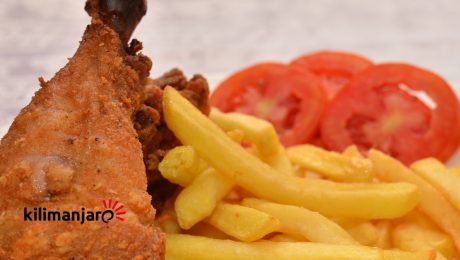 When people think of major Restaurants in Port Harcourt and Nigeria at large, the list would be incomplete if Kilimanjaro isn't mentioned. This is so because Kilimanjaro has succeeded in creating a popular and appealing brand among quick service restaurants in Nigeria. Going from its appetizing and tasteful food packages, serene and hygienic environment as well as its endearing customer service, it has retained its position amongst the top brands sought-after by customers. Above all, the brand has remained a much focused business entity, last year alone we learnt that they made a whooping profit of 950m Naira after tax, that's huge and very promising! You surely would love to know more about this exceptional brand.
THE BRAND HISTORY
Kilimanjaro is the thriving restaurant brand under Sundry Foods Limited, an integrated food services company that proffers hospitality solutions through a wide range of products and services involving catering, restaurants and bakeries. Specifically, the primary brands of Sundry Foods Limited are; Kilimanjaro, Nibbles bakery, SFL catering services, Pizza jungle, and KiliSharwarma. Same group also owns and operates MarketSquare, a supermarket chain under the company Sundry Markets Limited.
Sundry Foods Limited was established in 2004 by Ebele Enunwa, a chartered accountant and former Regional Manager of Stanbic IBTC bank Port Harcourt, who resigned to pursue his dream as an entrepreneur and obtained a Masters of Management in Hospitality degree from Cornell University, USA.
Recording exponential successes in acceptance and sales, Kilimanjaro stands out as the fastest growing and most successful brand of SFL. It has over 31 outlets across the country and is the leading food service provider in two major cities in Nigeria – Port Harcourt and Abuja. They offer a wide range of wholesome and tasty local, African and Intercontinental dishes as well as both corporate and home delivery services. This is done under hygienic conditions, in an attractive manner whilst patiently capturing consumers' needs during service delivery.
Buttressing this, Kilimanjaro deliver tasty meals on time in good quality and quantity and also make payments easy by providing varied payment options for their customers through its cashless POS service. Ping-a-Meal; an online delivery service, provides customers with the opportunity to place their orders at the comfort of their homes and offices and have them delivered promptly. With Kilimanjaro you can never run out of cash because they offer CashBack services. Out of cash? Just go into any of its outlets. All these and many more has contributed in making Kilimanjaro a competitive brand, highly endearing to hearts of consumers. Little wonder some customers would argue that their meals are the best and are fascinated and really do enjoy Kilimanjaro's Nibbles coconut, strawberry and chocolate ice-cream mix. These can only be gotten from Kilimanjaro.
THE BRAND VISION
"Better Food, Better Service, Better People"
To be the foremost integrated food services company in the country providing the complete food service solutions to a select strata of clientele.
THE BRAND MISSION
To build a world class organization worthy of association and to create exceptional value for their shareholders by:
providing an intellectually stimulating work environment where employees can achieve job and career satisfaction,
providing the best products and service possible in an exciting environment giving the customer an unforgettable experience, while
positively impacting on our environment and the community at large.
THE SERVICES PROVIDED
Quick service restaurant serving both local and continental cuisines, Nibbles ice cream, shawarma, pizza, bread and confectionaries such as doughnuts, cakes, small chops, desserts, pastries; ping-a-meal service, Office and Home delivery services, industrial catering, events catering services.
THE BRAND CULTURE
Kilimanjaro has the culture of ensuring that the food needs of their customers are met by making available wholesome sumptuous and tasty meals on time and every time in good quality, quantity even at the comfort of their homes and offices. They are critical and very careful in employing staff and hire based on the brands core values of providing tasty meals and quality services to people. In their very own words,
"We know that what we offer has a direct relationship with the quality of materials we use as well as the quality of people we use to provide our services. We therefore take extra caution in hand picking our people and materials in order to ensure that we meet and exceed customer expectations on time, every time."
Written by Rejoice Emmanuel
Enjoyed this article? Share your thoughts…
We here to serve you insightful ideas that will help you build an exceptional brand. Send us an email at wecare@mapemond.com
Do Business Better