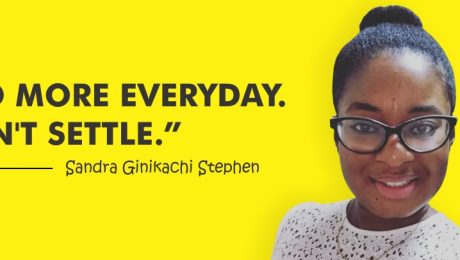 The ideology that one can only be a master in one field has been proven wrong, repeatedly. Sandra Ginikachi Stephen is one of those who have broken out of the norm. From being a trained Animal and Environmental Biologist, she veered off to an entirely new field where she currently works as a Visa Processor in a destination company.
Sandra, exploring more options available to her, is also involved in event styling and utilises her paper craft skill for interior and outdoor decoration. She has, through constant practicing, developed and mastered these skills for profitability.
Sandra acknowledges that her experience during work has instilled some indispensable values in her. "Working has impacted me in diverse ways. It has given me a sense of responsibility to my community and nation at large. Now I want to learn more, so I could give more. Working has also taught and is still teaching me patience."
During the course of working, Sandra has also acquired some level of direction socially. "It's brought some sort of focus to my social life. Now, I always have a target concerning my circle. How would this person assist in actualizing this? What solution can he/she proffer? How passionate is he/she with giving back to the nation and so on?"
Due to her remarkable career advancement, Sandra could be easily mistaken as one who had a background in her chosen field. However, she is quick to clear this perception. "What I do presently is way different from my course of study, I must say. I studied Animal and Environmental Biology but currently I am doing the job of a hospitality and tourism person. Not related in any way one would say."
Regardless of the fact that Sandra may have deviated from her course of study, she indicated she still has interest to explore career options in that line and considers her experience so far as an advantage. "Even though I still look forward to taking up a career in my field, I count this a plus."
In fact, she refers to career switch as a turn that could eventually lead one to their required career destination. "I wouldn't call it a change in career but with reference to the word 'career path', my current job is one of those turns we take."
Speaking about her work benefits, Sandra highlighted that asides the financial rewards, her job also creates an opportunity to build skills for personal growth. "There's a whole lot of growth and benefits accompanied with my job. Here, if you are focused, you'd develop skills that would help you successfully start up your own destination management firm with massive financial benefits attached"
Spotting tolerance as one of the major lessons she has learnt at work, Sandra noted that it is a vital quality one needs to survive in any organization. "Tolerance. Working in any organization requires a measure of tolerance and this one is not exempted. Experiences have taught me to be tolerant. Whatever happens at the workplace ends at the workplace."
Sandra also identified lessons that have contributed to her personal development. These lessons have equipped her with a wide range of skills and ethics that are relevant to her both as an individual and especially as an employee. "In my course of working, I have developed character. I have learnt and still learning the art of professionalism both within and without the work environment. My job is "risk". The first thing I learnt on resumption was learning to unlearn whatever I thought I knew. Even those occupying managerial positions still learn on the job. I have also learnt team work."
Financially, Sandra admitted she has had an impressive progression of income. "My work has helped me maintain a consistent financial lifestyle. Coupled with other financial benefits accompanying."
Despite her regular job, Sandra has her side hustle to back her up. She stated that her side hustle is birthed from her love for paper crafting. "I am a creative person. I love crafting. And taking it as a side hustle has had this way of keeping me active. It makes me ask questions like "how can this/that be done more creatively". I even apply this to my regular job."
She added that having a side job has liberated her from any chance of monotonousness that could lead to boredom and at the same time provides another source of income for her. "More so, for someone that gets bored easily, it helps me see the brighter side. I wouldn't also leave out the juicy feeling of having an extra flow of income."
In the aspect of work disadvantages, she stated that they were minute compared to the advantages. "More advantages than any disadvantage I can think of. My job bears up so much risk that could cost the company a lot of money. But you'd admit that every other job does too."
A challenge that Sandra classified as a positive one is the competitive spirit of workers in the organization who have given themselves to self-development in order to retain relevance. "I wouldn't call it a challenge or should I say it's a positive challenge. It is an organization where all or most of her staff are fighting to maintain relevance. Everyone working to be better every day in his or her different sections. More like positive energy."
Sandra advised young people to seek continuous growth and not dwell on past knowledge. She recommended constant improvement for anyone aspiring to advance career wise. "We all are still finding our feet. No one, even those at the top would ever admit that they have reached the apex. Everyone is trying to do more and be more. That is all you need to do – do more everyday. Do not settle. People are watching, opportunities are lurking and looking for the relentless. It will all work out someday. Even better than you ever imagined it."
Having read Sandra Ginikachi Stephen's interview, we hope that more people will work towards building themselves and mastering their craft to the highest level.
Written by Jennifer Chioma Amadi
Do you need a team to grow your brand? We can help you recruit the best set of people. Send us an email at wecare@mapemond.com
Do Business Better!