Tuesday, 05 February 2019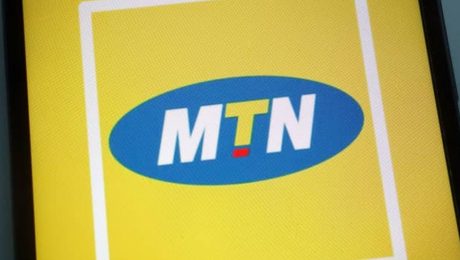 Think of a network service provider that has helped most Nigerians connect with people far and near, and MTN pops up! Think of the largest telecommunication company in Nigeria and MTN comes ringing its yellow bells. Due to its wide reach and years of consistency, MTN remains one of the most recommendable mobile Telco brands. Today we take a deeper look at this prodigious brand.
BRAND HISTORY
MTN is a multinational mobile telecommunications company under the MTN Group Limited which has its headquarters located in Johannesburg, the capital of South Africa. It was established in 1994 during the new era of democracy as one of the tools for transformation. In the quest to spread its reach and enlarge its customer base, MTN, extended its hands to Nigeria as one of the countries it found fit to do business in. Taking advantage of an auction opportunity conducted by Nigeria Communication Commission in January 2001, MTN automatically became the very first mobile network to make a call.
Following this, MTN launched full commercial operation in August 2001 starting with major cities like Lagos, Abuja and Port Harcourt. From that period, its services have spread across Nigeria covering over 223 cities and towns, more than 10,000 villages and communities, and practically spanning the 36 states in Nigeria with over 52 million subscribers to boast of. Since its inception, the brand has grown and is currently recognised as the eleventh largest mobile network operator in the world and the largest in Africa. It has operational branches in over 22 countries in Africa, Asia and Europe. In June 2016, MTN was recorded to have over 232.6 million subscribers in these various countries.
MTN continues to exist to provide solution to connectivity, communication and collaboration problems in all the countries it operates in. It leverages technology in order to give its customers a good experience. From its track record, MTN is known to be the largest privately owned mobile operator in Africa, Europe and the Middle East.
BRAND VISION
A trait that is predominant among every successful brand is a clear vision. MTN is one of such brands that has their eyes on the ball and this is what they see themselves becoming, "Our vision is to lead the delivery of a bold, new digital world to our customers."
BRAND MISSION
From their tenacity and never giving-up spirit, it is obvious MTN is on a mission. In their own words, "Our mission is to make our customers' lives a whole lot BRIGHTER. We do this by delivering relevant, accessible, high quality telecommunications solutions that put them in control."
BRAND SLOGAN
Beyond its bright yellow colour, another remarkable attribute that seem to keep MTN in the minds of customers is its unforgettable slogan, "Everywhere you go". This slogan has become part of its identity and continues to pass the brand's message.
BRAND VALUES
The company is driven by some core values such as;
Leadership
Relationship
Integrity
Innovation
Can-do
BRAND STRATEGY
MTN operates with a well-defined brand strategy which they refer to as BRIGHT. They see this strategy as six pillars on which the brand is built upon.
B- Best customer experience
R- Returns and efficiency focus
I- Ignite commercial performance
G- Growth through data and digital
H- Hearts and minds
T- Technology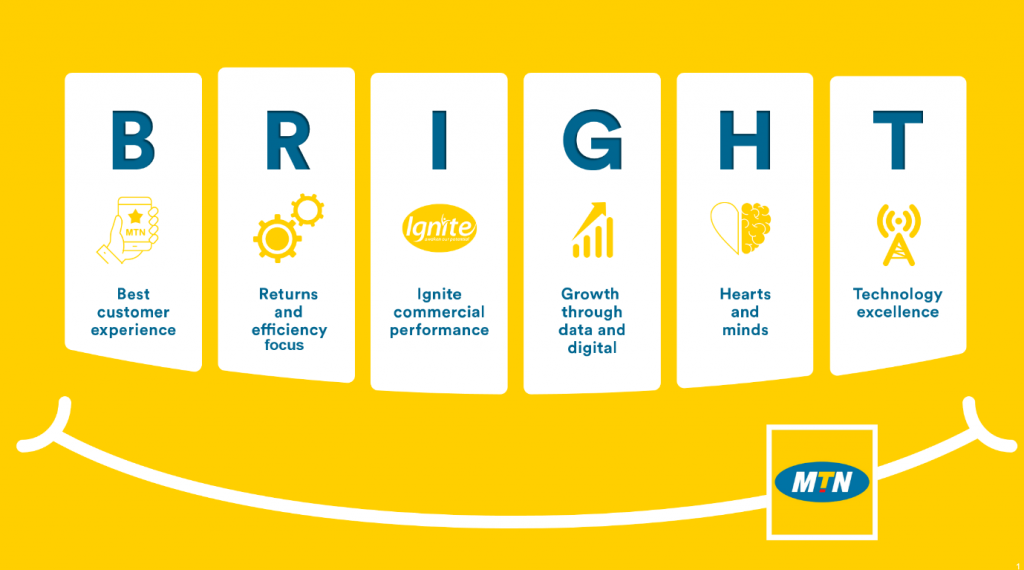 DID YOU KNOW?
Here are some facts you may not know about this prominent brand.
The brand was formerly known as M-cell
MTN stands for Mobile Telecommunication network
The first phone call was made in Maritime House, Apapa
One-third of MTN revenues comes from Nigeria
It changes its number range whenever a particular range is full. This is the reason why they've changed from 0803, to 0703, to 0706, to 0810, to 0813, to 0814, 0816 and now 0903
Written by Jennifer Chioma Amadi
Dreaming of starting a business that will become a well-known brand? Shoot an email to wecare@mapemond.com
DO BUSINESS BETTER!