Wednesday, 06 February 2019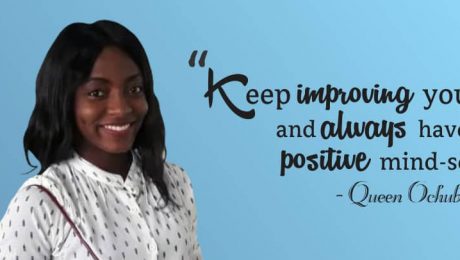 The engineering profession which officially dates back to 1390 has always had a strong label attached to it, "The Man's World". This meant its doors were shut to women and that made it almost impossible for females to get involved. Fast forward to the twenty first century, its doors sprang a bit open and accessible to females all over the world. Queen Ochuba, our interviewee for the week is one of the few females treading confidently and leaving footprints in the engineering field.
CAREER PROGRESS
Knowing the odds and hurdles she would have to cross, Queen took out time to lay her foundation properly and be well-grounded in her chosen career. This has opened the doors of opportunities she has walked through over the years.
"I have a bachelor's degree in Petroleum Engineering and an MSc. in Petroleum Engineering and Project Development. I've previously worked as a petroleum engineer (before and after my masters) and I currently work in a business development role for a petroleum engineering software development company."
With a good number of years of experience under her belt, Queen has continued to make a bold statement and build her relevance professionally.
"I've developed my technical skills and I'm better at managing relationships. I'm also more independent, more confident, more out-spoken and I can blend into just about any circle."
Big things they say start small and oftentimes it is in the small things that our level of commitment is tested. Queen's progress so far can be linked to the level of commitment she has poured in the minor roles she has had to take on in the past.
"I started out as a Petroleum Engineering Graduate Intern in 2014, went on to do a master's degree in 2016 and in 2017, I got a Graduate Trainee role in an oil service company after which I got a permanent offer towards the end of 2018. The benefits and conditions of service have been better with each offer."
WORK EXPERIENCE
In the process of working, she has had some remarkable experiences but the one that stood out for her is the endless possibilities learning opens us to.
"I worked on a project in 2016 with my team. A few weeks later, I casually wrote a scholarship test and 85% of the questions were in the same area I had just worked on. Naturally, it felt good to know that I had learned a lot from the project, more importantly, I got funding for my masters as a result of being in that environment at that time. I learnt the value of information."
Speaking about her financial life, Queen simply mentioned how she has been able to manage her finances as a working class lady. "I've developed financial discipline overtime, I've learnt to plan better and I'm able to contribute to my community."
When asked about the disadvantages in her work, Queen couldn't pinpoint any but rather made a suggestion on how things could be done better.
"I'm struggling to pick out a disadvantage. If I had to change one thing though, it will be to make working hours and location more flexible."
Moving on to spot out a major challenge which she faces at work, Queen said, "I occasionally struggle to keep up when there's an avalanche of events going on at the same time. Overtime, I've learnt to use to-do lists, group similar tasks, prioritize, and maintain focus through it all."
SIDE HUSTLE
Queen is not the regular kind of petroleum engineer who only depends on the oil money for her survival, she is skilled up, has her side hustle intact and juggles both work and it smartly.
"I love order and I'm great at organizing. Following this passion, sometime in 2013, I did a 3-month training in decorations and event management. By the end of the third month, I was already getting juicy offers to decorate for events and the rest they say is history. Interestingly, most of my jobs are on weekends and I've been able to assemble a team so it's easy to juggle both."
Ending her interview, Queen gave a short and precise advice to younger folks starting their career. "First, know the basics. Put yourself out there. Get mentors. Keep improving yourself and always have a positive mindset."
Written by Jennifer Chioma Amadi
What's a brand without a team? Need help in getting suitable team members for your business? Shoot an email to wecare@mapemond.com
DO BUSINESS BETTER!
Wednesday, 09 January 2019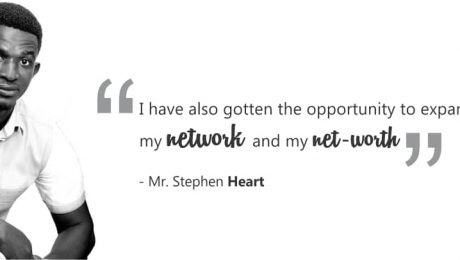 For a number of workers, the workplace could be the most dreaded place they have to put up with while others see it as a place filled with lots of opportunities. For this week's employee insight, Mr Stephen Heart, who has over eight years experience under his belt in the aviation sector, shared his perspective about his work place and work life in general.
"I work in the airport, an environment where you have the opportunity to meet and interact with people from all walks of life – the high and mighty, the movers and shakers, and all. Having to meet and interact with these set of people made it easy for me to decide on the kind of life I want to live and make for my family. I have also gotten the opportunity to expand my network and net worth," Mr Stephen said to emphasize the level of impact his work has made in his life.
CAREER TRAJECTORY
 Unlike most people who set job hunting as an after school plan, Mr Stephen Heart joined the labour force early and has continued to advance since then, "I actually started working while I was in school and I have grown in my department."
When asked if he had changed his career before, he replied, "For me, I know this is where I need to be for the big picture and I'm flourishing and sincerely I have never thought of leaving." From his words, you can tell that Mr Stephen finds satisfaction in his workplace.
Many employees are driven by several factors as regards the quality of work they deliver. Arguable statistics have shown that ninety five percent of working class people work mainly for compensations and benefits while the rest work to add value. Mr Stephen can be classified under the five percent who seek ways to improve in order to add more value to the company.
He said;
"Completing and passing the 'ICAO AVSEC Instructors Course' made a huge difference in my career. The feeling of knowing that I'm impacting the people around me by imparting knowledge as a certified instructor gives me a sense of fulfillment and relevance."
Giving some insights about the impact his job has made in his finances, he said, "the idea of having a constant and assured inflow (salary) at the end of every month avails me the opportunity to really plan my finances well. Earmarking comes with ease for me because I know exactly how much I will be having at the end of every month. So, it has made me a better financial planner and a prudent spender and of course my work has increased my net worth."
DAILY LIFE LESSONS
Like every journey with lessons to be learnt, Mr Stephen sees his workplace as a learning ground full of thought provoking lessons;
"meeting and interacting with different kinds of persons; happy people, angry people, good people and not so good people, proud and humble people, wealthy and not so wealthy people, etc. has been remarkable. I have learnt the importance of not judging a book by its cover, that appearance can be deceptive and most importantly I have learnt the importance of cultivating and nurturing relationships both with colleagues and clients."
While advising the young people in the area of career choice, he had this to say; "the environment should be very important to you when trying to make a choice. Is it an environment that allows room for growth? Is it an environment that avails you an opportunity to meet people of great minds, both colleagues and clients?"
"Look for and find a motivating factor about your job and hold onto it with everything. This is because after all is said and done; it's your motivation that will help wake you on Monday mornings when you really don't feel like reporting to work that day."
THOUGHTS ON SIDE HUSTLE
 "Actually for me, my job is my side hustle while my business is my main hustle," he said amusingly. "Don't be in a hurry to conclude," he continued. "Remember I told you about choosing your environment wisely and getting a motivation on your job. I already knew what I wanted to do and become in life before I started working but I needed a platform, a facilitating environment."
"My job environment is an enabling one for my vision. My job is a shift job; it gives me time to focus on my private business while also carrying out my job functions accurately and excellently without one affecting the other."
He concluded by adding, "at the end of the day, it boils down to what you want for yourself in life. I mean the decision to have a side hustle or not to have one."
As an employee, understanding that you spend a greater part of your life in your workplace should help you plan your life better. So finding the right place that makes you fulfilled should be your priority.
How can employers create an encouraging workplace for their team? Please share your thoughts with us in the comment section below.
Need help in building a highly productive team?
Send us an email at wecare@mapemond.com
Written by Jennifer Chioma Amadi