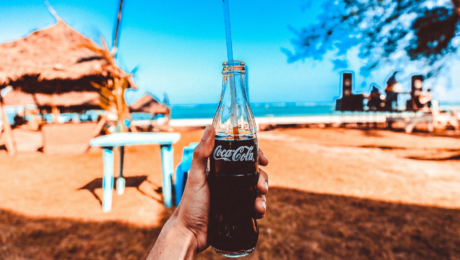 Written by Veronica Johnson
In this competitive digital arena, businesses have to do everything in their capacity to stay at the top. When you are trying to establish a new brand in the market and extend your products/services, you need to be ready with plenty of things.
Today, creating a unique brand identity has become more important than ever. How would you make your brand get recognized in the market? Will you start a marketing campaign? Will you create a website to attract online traffic or try to engage your audience through social media?
Yes, yes, and yes, you have to do it all eventually. However, the first thing you need to do before starting anything is creating your company's logo.
Undoubtedly a logo is the first point of contact for any brand, and it is meant to identify. Your logo must be something that makes your audience instantly recognize you in the crowd.
Let's take the example of Audi's logo-the iconic four intertwined rings. You don't need Audi written along with the logo to understand it is an Audi car. Well, that's the power of a logo.
What Is A Logo And Why Do You Need It?
A logo is basically a combo of text, images and sometimes animation. It is more of a symbolic representation of a brand that helps create an identity and attract customers.
A logo is the first impression of a company, and it has to be powerful. It should depict the core objective of the company, yet at the same time, it should be human-centric. Using emotion in logo design has also become a popular option for many companies to establish a human connection.
Without a logo, you would not be able to establish an identity in the market. Irrespective of the size, structure, and goal, every business needs a unique logo to stand apart. Without a logo, you will possibly get lost in the crowd, and all your efforts will go in vain.
#1 As Simple As It Can Be
You would not want your customers to get confused about your logo and not be able to register in their minds. If you want to make a lasting impact, you need to keep your logo as simple as possible.
You would notice that most of the successful and impactful logos in history are super simple. For instance, the single swoosh of Nike or the bitten apple design of Apple. These logos get instantly picked up in the crowd and become easy to remember.
Hence, simplicity should be the key ingredient while you are creating logo designs. Indeed, a simple design can depict your brand voice and become easily recognizable in the market.
#2 Make It Relevant
Apart from using simple text images and colors, relevance in your design is the most important characteristic. You cannot go with a design that is extremely opposite to what your brand does.
You need to communicate the personality and identity of your brand through the logo. Like the use of the right fonts and colors in the logo will compel the customers to connect with the brand.
For instance, if a company is selling kids' toys, it should not create a logo with monochrome colors; they would need to use bright and multiple colors to depict the fun, energy and excitement of childhood.
Your logo is the visual anchor for your customer, and it is essential to make it relevant by adding appropriate font, symbols, texts, and colors.
#3 Unforgettable
Can you ever forget the logos of Windows, BMW or Starbucks? No, right? The designers have made these logos memorable for us, and that should be your next motive.
A key aspect of a successful logo is making the logo memorable. It should instantly register in your customers' minds and stay there even after a quick glance.
Your aim should be to connect with customers and kindle their interest in the brand. When they are able to recognize and recall your logo, then it becomes instantly memorable.
You must use all the above-mentioned ingredients in the right way to make your logo stay afresh in your customers' minds.
#4 Remain Timeless
A successful logo is something that remains relevant and fresh in the minds of your customers. Your logo should be timeless and remain effective for years and more.
The first instinct while designing a logo is to use current graphic trends, but it may not be effective always. You might have to redesign them in the future according to the changing scenario.
For instance, McDonald's and Coca-Cola's logos have remained unchanged all these years. These logos were timeless and able to connect with customers irrespective of the timeline.
Timeless logos generally include effective and quality ingredients. It does not focus more on quirky ideas that may easily get outdated. It should be timeless and unique.
#5 Versatile Like Anything
Last but not least, your logo must be versatile. It should be used in different varieties of formats and shapes. A logo that can be used in only one online size is not going to work.
Your logo must be flexible and expose your brand on different platforms. It should be compatible with printing resizing and ideal for different media.
Even your best logo can become useless if it shrinks or becomes illegible while resizing. The key is to keep it simple and save it in different formats.
The Bottom Line
Have you ever tried to shoot without a target? Running a company without a logo and expecting customers to pay attention to your brand is exactly the same way.
You cannot expect your customers to recognize your brand in the cut-throat competition without having a digital identity. Right, when you brainstorm ideas for your business, you need to formulate a logo design that will work amazingly for your brand.
Creating a logo is not a walk in the park. You need to consider some important factors to create an impact. The above mentioned were 5 must-have characteristics of a logo that you should keep in mind.
Veronica Johnson likes reading, writing and exploring through her travel. With her freelance guest writing, she hopes to achieve both her passion and career in online content marketing. She writes on topics like business, advertising and digital marketing.