Wednesday, 20 February 2019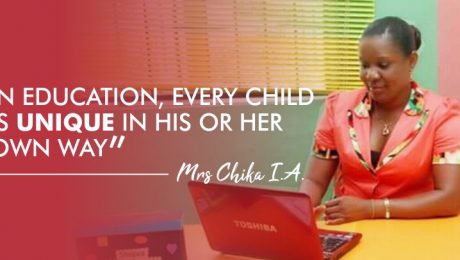 Mrs. Chika I. A. started out her teaching career as a care giver but has risen through the profession to becoming a well-experienced expert in educational management and a proficient developer of start-up schools convincing and increasing the confidence of parents/guardians to admit their wards and thus bringing in more money to school owners in Port Harcourt. She is currently a consultant manager for schools within and outside Port Harcourt metropolis and is a staff of the Universal Basic Education Board where she teaches in one of the State Primary Schools in Port Harcourt. With over 20 years of seamless dedication, we'll see what drives and sustains her passion in one profession most young Nigerians wouldn't want to venture into.
CAREER TRAJECTORY
As earlier mentioned Mrs. Chika began her career providing care to 0 to 1 year old babies in a private school in Port Harcourt, more than 20 years ago; long after obtaining her GCE (General Certificate of Education) in 1990 and having before then, obtained a Distinction in her first school leaving examination. With little or no degree in education, she had a rough and slow ride in advancing her career as a teacher and went in and out of teaching, sometimes freelancing as an assistant teacher (which is more or less the job description of a teacher) in some private schools paying peanuts in Port Harcourt. Her dedication, hard-work, touch of excellence and eagerness to learn and adapt to the 21st century advancements in education teaching methods, gave her an edge over her counterparts in the teaching profession. This skyrocketed her career growth and she began working in the full capacity of a Teacher and had taught for several years before obtaining her National Certificate in Education (NCE) in 2010. During our interview with her, She stated that most of the schools she taught in had parents giving good reports and recommendations as she made tangible impacts in the lives of the pupils and proprietors found it difficult letting her go. She says:
"In fact one of the proprietors I worked for, that wasn't faithful in salary payments, almost created a scene when she knelt down on the tarred road – in public view – pleading that I should come back teaching in her school; promising to pay on time; but I had gotten a bigger offer to manage a start-up school then, so I couldn't stay."
Mrs. Chika developed one of the most prime and quality schools in Port Harcourt in terms of infrastructure, sophistication of teaching materials; serene, beautifully painted and well decorated child-friendly classrooms, safe playing ground and well protected balcony's, going on to conducting and supervising the recruitment process of quality staff, developing the curriculum/scheme of work for each class, utilizing various curricula combinations (American, British, Montessori), liaising with suppliers of educational materials and getting the best deals in quality, emphasizing on the importance of extra-curricular activities, vocational skills, musical instruments prowess and ballet dance skills, swimming skills, excursions, e-learning, efficient teaching methods for special kids, amongst other educational advancements. She went on to establish more schools in that regard. Her taste for knowledge drove her to getting various educational certifications and then she applied for a Bachelor's degree in Education. When the employment offer by the government came, she had to make a tough decision of leaving her position and its pay to a position offering less than half her pay then. This shows vividly that her passion for teaching isn't driven by money. She resigned and is currently a staff of the Rivers State Government under the Rivers State UBE board touching the lives of less-opportune children.
CAREER IMPACT/CHALLENGES
Having quite an interesting career trajectory, Mrs Chika threw light on the impact and challenges she had encountered so far on her career journey. Speaking on how working has impacted her life, she declares;
"I have gained experience over the years which have made me work with much more confidence, contributing to my expertise and making me highly sought-after by school investors and directors. So, the experience I have which can't be taken away added to my wealth of knowledge in my profession and the financial aspect – though not much, has been of great impact to me."
In addition, she spoke on the challenges that she encounters whilst working.
"The non-supply of teaching aids and learning materials has been a major challenge so far. My employer supply what they think is basic like the board, just recently more desks for the children were brought in, and a conducive classroom. But there are some other teaching aids and learning materials that needs to facilitate teaching and learning which they ought to supply but they don't; so it hampers the teaching and learning process. Also, the meager salary paid in these economic times is a challenge. We have to live within our means and save ahead and also stock the kitchen ahead of time because we aren't certain when the next salary would come. "
When asked if she faces any challenges with teaching stubborn children, she has this to say:
"In education, we don't tag any child stubborn. Every child is unique in his or her own way."
PROFESSIONAL ADVANCEMENTS IN TERMS OF PROMOTION and FINANCE
Besides the challenges Mrs. Chika faces whilst impacting knowledge to the upcoming generation, there has also been a stall in promotional benefits of staffs. In fact it spreads across the civil service and we know that with promotion comes an increase in finance. Expressing her disappointment, when asked her career trajectory in terms of promotion and benefits, she has this to say:
"As a civil servant, it's not in my hands to detect. It's the government that carries it out. Though, there ought to be promotion after every two years during which promotional interviews are conducted; but for the past 10 years now nothing like that has happened. So I depend on God who doesn't disappoint to reward me better. Aside the loans which are given once in a while, I'm unaware of any other benefits."
HIGH POINT OF CAREER
When asked the question: 'What has stood out for you since you started working, in other words, what's your best experience so far?'. She has this to say:
"The outcome of my teaching on the lives of the children and teaching itself gives me joy. Children don't need to be grown-ups to reflect the teaching even there and then, change occurs. Education is all about change and when this change manifests in the children's' lives it gives me joy. When you tell a child – if it's in the moral aspect – that this is not good, and you see that child adjust and there's a change in behavior, you know that you have achieved your goal. When you're teaching a subject which the child had no previous knowledge about and at the end, that child becomes a guru on that topic, you've achieved your goal and achieving goals makes you happy and satisfied with your job".
CAREER ADVICE
As a wrap up, our interviewee gave her advice to those seeking to build a career in Teaching. She opined;
"Have genuine love for the profession and passion also. If you don't love teaching don't go into it. Don't go into teaching because you want to make money. You can't make money in the classroom. You can't turn those children into money or you'll be tagged a 'ritualist'. God has a way of blessing teachers. I can't quote in ABC terms that this is how God blesses teachers; God has his own unique way of blessing teachers. So don't go in expecting huge mega pay because you may be frustrated but go in with the intention of helping those young ones grow in knowledge".
Mrs. Chika added that teachers should open themselves up to opportunities for career development.
"The world is changing and so every aspect of life changes with it. We should not be rigid but easily adaptable to technological advancements in education and teaching techniques".
From Mrs. Chika's Perspective about the work place, it is quite obvious that growth in whatever career path you've chosen is driven by your passion, taste for excellence/knowledge and not just the money. In fact the money shouldn't be the prime focus especially in the teaching profession and happiness comes when you've met your goals.
Written by Rejoice Emmanuel
Do you need help in recruiting the right staff? We can help. Send us an email at wecare@mapemond.com.
DO BUSINESS BETTER!