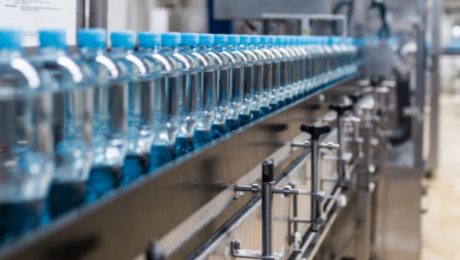 EMPLOYEE INSIGHT: "THERE IS NO FORMULA OR STRAIGHT FORWARD APPROACH WHEN IT COMES TO RELATING WITH PEOPLE IN THE WORKPLACE"–ANONYMOUS
A paramount skill every employee, irrespective of their positions, should acquire is the ability to work excellently with others in the work place. They must be willing to start the learning process of establishing good work relationships with fellow colleagues. With willingness, any employee can be trained and taught this vital skill.
Our interviewee, a maintenance planner and scheduler in a bottling company, argues the opinion that one human relationship approach can work for everyone in the work environment. He stood on the fact that human beings have different features and each person is unique in their own way. Find out more about his work ideologies…
JOB SPECIALIZATION
Giving an insight to his job specification, our interviewee, shared in details, "My role is to ensure machine availability and reliability are achieved through planning and scheduling or coordinating maintenance activities. This means that I try to ensure that all the machines needed for production are available and are in good condition at all times especially when needed. This is to keep all machines in check so they don't breakdown abruptly when they are in use and that they also perform at their best"
For a clearer understanding, he enlightened us some more about the dynamics of his work. He took us through the different procedures he undergoes to achieve success in his daily job.
Expatiating he said, "Planning involves assessment of the job to be done, assess the resource availability, and ensure the right tools are available and spare parts. If skill set is needed, you try to inform those responsible for the job. I practically provide both intellectual and physical resources and also schedule them as need be; fix a time duration and issue out a work order which is basically a permit to work"
CAREER TRAJECTORY
Our interviewee has had a slight career change which most would refer to as a promotion. Having started as a technical engineer for a company that served as a supply chain for his present company, our interviewee was found worthy and was retained when the time came. "I started as a technical operator for a company that supplies for my present company and then was promoted to a maintenance planner"
He specified that his chosen career path, maintenance planning and scheduling, is in line with his course of study, mechanical engineering. This has given him some level of advantage in his field.
"I studied mechanical engineering in school and maintenance is a major aspect of it. Although there are some electrical aspects too, but it is mostly a mechanical work. Mechanical engineering, however, is a broad course with many areas of specialty and that includes what I am currently doing, maintenance."
Speaking on his work experience so far, our interviewee shared some impactful insights about his work life. He highlighted that he has developed a deep sense of responsibility, an eye for details and diligence.
"I personally think working is an avenue for each person to learn. By learning, I do not just mean learning a profession or career but I mean the discipline work teaches one, that sense of responsibility. There is a whole lot of training working gives to every man. Therefore, for me, working has helped my sense of responsibility, diligence and has taught me how to pay attention to details. It has also helped my thought pattern because I get to work with a team of intellectual people. It has expanded my thinking capacity, broaden my horizon, increased my exposure level and has built my confidence level as regards facing challenges."
While sharing some lessons he has learnt over the years as an employee, he identified one major factor in any workplace, which is people. Our interviewee believes there is no precise method for handling different people with different backgrounds and orientation.
"One major lesson I have learnt in the course of working is that you have to know how to deal with different people. There is no formula or straightforward approach when it comes to the workplace because you are interacting with several people with different characters, different likes and dislikes and different temperaments. One just has to learn how to relate with different people and maintain a good relationship with everyone. Adaptability is another lesson I have learnt while working."
Our interviewee regards regular income from the workplace as a benefit that should enhance one's ability to plan their financial life better.
"Having a regular salary helps me to plan and I believe that is one benefit of working. So I am able to plan my expenses a little bit better and hope to improve even more."
Like a coin, a job has two sides – advantage and disadvantage – to it. These two are common traits in any work life, which virtually every worker faces. Our respondent enumerated some of the disadvantages that accompanied his job; they ranged from stress, down to the daily demands and problems he has to solve.
"A disadvantage with my job would be the stress. It can also be time consuming, energy draining and really demanding. If something goes wrong, you are trying to think of how to fix it, trying different ways. Even after the close of work, your mind keeps running from one machine that is down to the other in search for a solution."
Laying more emphasizes on his challenges at work, he added, "Some days I leave work and I am so stressed out. Also, sometimes some people can be very difficult to work with"
With how demanding his work is, our interviewee indicated he could not consider having a side hustle due to the time constraints.
"No I don't have a side hustle," he said. "I'm very much involved in church. Therefore, when I am not at work, I am in church. In the end I don't have time to include any other demanding activity, like side hustles."
Concluding his interview, our interviewee shared an unusual advice for those planning to travel the career journey. He advised young career beginners to follow the leading of the supernatural being, God, rather than hurryingly follow public opinions.
"Advising on a career path, I wouldn't come from the area of 'be diligent, pursue your dreams, know your area of strength etc.' I believe most people have heard that speech before. What I would say is whoever you are; follow the Lord and the need of God for your life. Do not rush, because we are not competing with anybody. Do not take decisions because every other person is doing it. Wait, take your time, ensure this is what the Lord will have you do, and follow the leading of His spirit. I have found out that that is the best way to live. Simply trust God and everything will fall in place."
Written by Jennifer Chioma Amadi
Need a team for your business? We can help you recruit the best. Send us an email at wecare@mapemond.com
Do Business Better!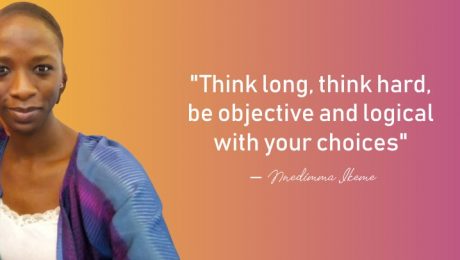 Teaching, especially when it comes to children, is one of the toughest responsibilities one could handle owing to the fact that much patience and energy is required. Nevertheless, this imperative task cannot be shoved aside and just like the great Whitney Houston sang, "I believe in the children of our future. Teach them well and let them lead the way," emphasizing the need to properly educate the little ones.
While most parents and guardians don't have the time and patience to live out these words, there are those who have dedicated their lives to teaching and grooming these children. This set of people whom we often call teachers continuously bear the responsibility on their shoulders. To some the ability to nurture youngsters comes as a natural gift while others had to simply learn on the job.
Today our spotlight is on Nnedimma Ikeme, a tutor in a lesson centre who uses both formal and informal methods to teach children. She is undoubtedly one of the few special hands chosen to nurture little ones and without exaggeration, one could perceive Nnedimma's impact distance away.
CAREER TRAJECTORY
For one who had no prior knowledge about her current career path, Nnedimma has opened herself up and has developed deep passion for the new world in front of her. Nnedimma stated the tremendous impact working has made in her personal and career life, "working has greatly helped me prioritise my life better and has given me a clearer career path," she said.
From what started as a casual voluntary work, Nnedimma admitted that she has grown to love her profession even though it was not her course of study in school. However, she has consciously equipped herself by exploring most of the learning opportunities available to her and has acquired necessary skills over the past three years.
"Working as a volunteer at first, helped me realize I loved teaching and with time, I worked intentionally to hone that skill; garnering experience as I worked."
Nnedimma has experienced significant advancement in her chosen field since she commenced work. Her rapid career growth has proven that an amateur in any field can eventually become a master with diligence and dedication. "There has been growth with regard to promotion; from a volunteer, Assistant Tutor to a full-time Tutor that also doubles as an Interim Administrator when the need arises. The financial benefits have not been as good as I would like them to be, but it's all 'work in progress'".
One way to check our progress most times is through feedback. Nnedimma narrated her most remarkable experience which highlights her initial struggles with a particular child and the results she had afterwards. Her narrative;
"My first one-on-one child, Jose Maria is someone I can never forget. He taught me patience and made me imbibe virtues that I thought alien to my personality, while I explored and stretched myself beyond what was expected from me as a teacher. Working with the older kids and still maintaining a wonderful rapport has also helped shape up my work life for the better. Feedback from parents and children alike, make all the stress worth it."
Concerning her challenges at work, Nnedimma highlighted two major familiar key points which is usually the case for most people in her profession. "The exhausting long hours and the remuneration are major challenges."
Due to the nature of her job, its demands and tight schedule, Nnedimma admitted that she barely has time to include other activities that would improve her financial life. "I earn better than I did five years ago, but considering the changing times, it's not enough. The constrictive nature of my job does not give room for an extra source of income, hence my earnings are not enough for all I need to do within a stipulated time."
Like most workers, Nnedimma identified low payment as a major disadvantage. She stated, "I work for long hours, but I don't get enough remuneration. The hours do not give room for anything else," she said. However as regards having a side hustle, "I would love to have one," she confessed.
Wrapping up her interview session, Nnedimma had some deep words for young career climbers. "Think long, think hard, be objective, and logical with your choices. Money is a good incentive/motivator, but if you are green, ensure that experience comes first, then higher remuneration befitting one's experience will surely follow," she advised.
Written by Jennifer Chioma Amadi
Want to build a team of quality persons for your business? We have the right people across all professions. Send us an email at wecare@mapemond.com
DO BUSINESS BETTER!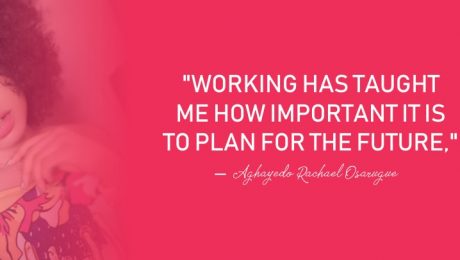 The financial management world is a broad and tasking one where concentration and discipline are the key to unlocking success as a practitioner. Handling of finances, no matter how small especially in the area of loans, is probably one of the most risky jobs. Despite the risk involved, more persons continue to find their footing in that line of career. Let us peek into the work life of Ahayedo Rachael Osarugue, a Credit Officer.
Rachael summarises her job description simply, "I give out loans and also help people save." This may sound simple but certainly entails a great deal of financial expertise in order to deal with the different financial situations of clients.
CAREER IMPACT
From her educational background, Rachael was lucky to have had a little foundation in her chosen career, "I studied business administration in school and right now I'm presently managing my branch though my career is based more on accounting now."
Racheal has gleaned some vital life lessons during the course of work, she stated the sense of responsibility it has given her and her ability to adequately make futuristic plans.
"Working has really made me understand what my parents went through to settle my needs while I was much younger. It has also taught me how important it is to plan for the future as working is not forever."
From her experience, Rachael concluded, "there is no good or bad client." With this non-judgmental attitude towards her clients, she continues to keep an open mind about her job. This way she ensures all clients are served without any bias or disrespect.
Notwithstanding her open mindedness, Racheal acknowledged a major disadvantage that more often than not causes a setback in the organisation. "It's possible you give out loans and you don't get a payback or your payback is delayed," she said.
The first step to solving a problem is to first identify it. After Rachael identified what challenged her most, she ensured it never hinders her from executing her job excellently. "I'm not too good with computers so I have to go extra length to do a perfect job," she admitted.
Unlike most employees whose reason for having other opportunities asides their main job is basically to make more money. However, Rachael, driven by her passion for teaching, added it as a side hustle. She rightly stated, "I teach sometimes because I enjoy it."
Based on her work experience so far, Rachael specifically advised those that would like to venture into the same career, "just don't trust any client, not even the one that seems best at the moment."
From the lessons Ahayedo Rachael Osarugue has shared with us, you can tell the work of a credit officers isn't easy but with the right attitude, one can continuously improve and become better.
Written by Jennifer Chioma Amadi
Have you always wanted to build a team? We can scout the best people for you. Send us an email at we care@mapemond.com. Remember NO TEAM, NO BRAND…
DO BUSINESS BETTER!